RUSHING BEAT X: Return of Brawl Brothers launches in 2024, reveal trailer
Platforms not announced.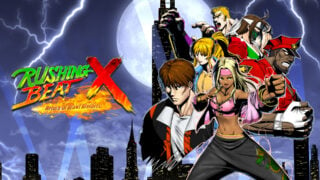 City Connection has released the reveal trailer for the newly announced RUSHING BEAT X: Return of Brawl Brothers, as well as confirmed a 2024 release window. Platforms were not announced.
Here is an overview of the game, via City Connection and western publisher Clear River Games:
About

RUSHING BEAT was originally developed by Jaleco, with City Connection now leading development after they acquired rights to all Jaleco IP. RUSHING BEAT has been scratching the brawler itch of gamers since 1992 when the game first appeared on the Super Nintendo® Entertainment System. Now, more than thirty years later, "The Peace Keepers" are back as the franchise is reborn for modern consoles!

Story

A virus labeled as the "Joecal incident" multiplies the physical capacity of a body when contracted.

Three years later, a new incident, the "Cyber Clone incident", broke out in a replica city.

And one year later again… the battle against the Zeekus and Cyber Clones is about to begin.

Are they walking on the path to destruction? Or…
Watch the reveal trailer below. Visit the teaser website here.
Reveal Trailer