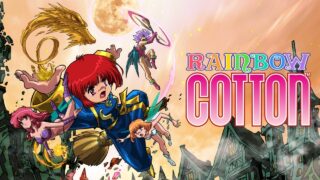 ININ Games will release a remastered version of SUCCESS Corporation-developed 3D shoot 'em up Rainbow Cotton for PlayStation 5, PlayStation 4, Xbox One, Switch, and PC via Steam in spring 2024, the company announced.
Rainbow Cotton first launched for Dreamcast on January 20, 2000 in Japan. It was never released in the west.
Here is an overview of the game, via ININ Games:
About

Originally released for SEGA Dreamcast in 2000, Rainbow Cotton is the fifth installment in the Cotton franchise. As a follow-up to Panorama Cotton, Rainbow Cotton is the first true 3D shooter entry in this widely celebrated cute 'em up franchise.

Dive right into this 3D rail shooter as the young witch Cotton, accompanied by her trusty fairy friend named Silk. Lured by the promise of delicious Willow, help Cotton confront the wicked demon Tweed and his legion of followers who have stolen the Legendary Willow from the enchanting land of York Country. Hop on your broomstick and go to town in this wacky adventure!

Rainbow Cotton features exciting gameplay reminiscent of its predecessor, the classic game Panorama Cotton. The game takes you on an arcade-inspired journey through a fantastic world full of surprises and challenges. Every stage in Rainbow Cotton is guarded by a massive boss that will put your skills to the ultimate test. Collect power-ups, build up your flashy projectiles, and hurl them at colorful enemies. Use powerful magic attacks to clear the screen with fireballs and lightning. Only the most courageous (and stubborn!) witches will prevail!

The charming 3D graphics will leave you mesmerized as you travel through, for example, a cozy moonlit town draped in Christmas lights, a mysterious sunken forest, and a magical castle above the clouds.

Feeling bewitched already? Check out the First Trailer!

Key Features

Dedicated Retro Mode: replicating the original experience as closely as possible.
Enhanced controls: Revamped snap-back and lock-on features for a more engaging experience.
Full localization, including the anime cutscenes!
Graphic enhancements: particle effects, ambient occlusion, and more!
Watch the announcement trailer below. View a set of screenshots at the gallery.
Announce Trailer
English
Japanese
Screenshots