Palworld – TGS 2023 trailer
Multiplayer, character customization, and more.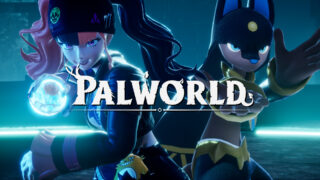 Pocket Pair has released the Tokyo Game Show 2023 trailer for multiplayer open-world survival crafting game Palworld, which introduces multiplayer, character customization, and more.
Get the latest details below.
About

Palworld is a multiplayer open-world survival craft monster-collection game that is set in a world where mysterious monsters "Pal" inhabit.

In Palworld, you will meet a variety of Pals, and what to do with them is entirely up to you. Capturing them, raising them, fighting with them, forcing them to work, selling them off, slaughtering them for food; you can do many activities with Pals in the vast world of Palworld.

Mysterious Monsters: "Pal"

In the world of Palworld, mysterious monsters called "Pal" exist. At release, there will be more than 100 types of Pals with various personalities. Working together with these Pals will be essential to survive this harsh world.

Pals with Various Special Skills

Each pal has a special skill. There are even Pals, which can fire from the air like bombers.

Character Customization

Players can freely customize their character's features such as physique, face, hairstyle, etc. Go on this adventure with a character of your choice!

Fight Against Leaders of Hostile Organizations and Bosses

You may come across giant Pals as you explore the vast open world. In addition, each biome has a hostile organization based there, whose leaders stand in your way and won't back down without a fight!

Base Building with Pals

Capture many Pals and build the perfect base. Production of items, growing crops, cooking dishes, and generating power can be automated by various Pals specializing in this labor. Pals work in ways that suit their individual personalities. However, pals are also living creatures like us. If you forget to give them food and rest, it will greatly affect their motivation.

Palworld supports multiplayer. Will you work together on this adventure or attempt to steal enemy pals and items? Of course, you can also exchange pals or have them fight.
Palworld is due out in Early Access for PC via Steam in January 2024, and for Xbox Series, Xbox One, and PC via Microsoft Store in 2024.
Watch the new trailer below.
Tokyo Game Show 2023 Trailer