Football Manager 2024 announced for PS5, Xbox Series, Xbox One, Switch, PC, iOS, and Android
Due out on November 6.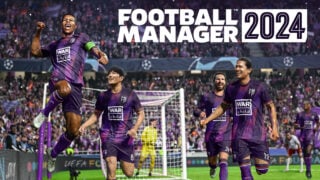 Publisher SEGA and developer Sports Interactive have announced Football Manager 2024 for PlayStation 5, Xbox Series, Xbox One, Switch, PC, iOS, and Android. It will launch on November 6. It will also be available via Xbox Game Pass.
The lineup is as follows:
Pre-orders are available now and include a 10 percent-off discount for PlayStation 5 (PlayStation Plus subscribers only), Xbox Series, Xbox One, and PC. PC pre-orders will include two weeks of early access to the game.
Get the details below.
About Football Manager 2024

Football is the relentless pursuit of perfection. Success in the modern game is defined by those who build, plan and fine-tune every aspect of their club.

Uncover new ways to win in Football Manager 2024 as you explore new horizons and compete for football's biggest prizes.

So, whether you're the sort of manager who likes to chase immediate glory or prefers building a club from the bottom, the perfect challenge awaits. The brand new ability to import your existing career from Football Manager 2023, meanwhile, perfectly positions you to continue those long-term quests for glory.

About Football Manager 2024 Console

Assemble a match-winning team and inspire them to dominate football's biggest competitions in Football Manager 2024 Console.

When it's time to take on the opposition, tactical tools and support from your backroom team will help to sharpen your team's performances at both ends of the pitch.

Make every advantage count when you're battling the best – have you got what it takes to win football's top prizes?

New features empower you to stamp your style, shape a title-winning culture and inspire your players on the biggest stages.

—PlayStation 5

Benefit from bespoke adaptation for the DualSense controller, using new tactical innovations to boost your team's performances.

Key Features

Football Manager 2024

Craft a winning approach on the tactics board, incorporating modern systems and cutting-edge positional innovations to deliver victories on the pitch.
Master the transfer market, using new ways to shape your side to craft a squad capable of achieving your goals.
Level up your players on the training field, developing the mentality and team work needed to turn contenders into champions.
See your tactical vision come to life on Matchdays, with every game elevated by improvements to ball and player movements.

Football Manager 2024 Console

Write your story as you step into the dugouts of the world's biggest clubs. Start a new journey to the top or use the new save game compatibility feature to bring forward your career from Football Manager 2023 Console, the choice is yours.
Select a winning tactical style, using the most popular, cutting-edge approaches from modern football or creating your own winning philosophy.
Your dream team is waiting to be built, so maximize the skills of your scouts and the world-leading Football Manager database to recruit the biggest names and the stars of the future.
Develop the next generation on the training pitch, using new tools to evolve your Wonderkids from prospects to world-class talents.
Make key game-winning tweaks as you watch your players compete for three points on Matchdays.
Battle for bragging rights against your friends in one of three online modes—Versus, Fantasy Draft and Online Career.
Watch the announcement trailer below.
Announce Trailer