Fe and Lost in Random creators form MoonHood, developing dark game made from clay for console, PC, and virtual reality
New title to be published by Fast Travel Games.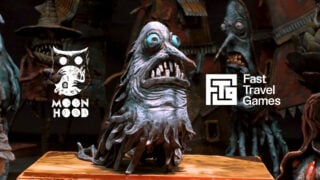 MoonHood, a new studio founded by the minds behind Lost in Random, Ghost Giant, and Fe, has announced its establishment. It is currently working on a dark game made from clay, which will be published by Fast Travel Games for console, PC, and virtual reality platforms.
"This ominous game will plunge players into bizarre realms crafted from tangible materials like real clay, transformed into detailed 3D models," reads the press release. "In the game, players will follow a heartwarming yet dark story while diving into innovative gameplay mechanics and facing horrific monsters, traversing a landscape that is as strange as it is beautiful."
MoonHood was founded by Klaus Lyngeled and Olov Redmalm. Lyngeled served as a creative director at Zoink Games from 2003 to 2022, and as CEO from 2001 to 2022. Redmalm worekd at Zoink Games for seven years, serving as a concept artist, 3D artist, and art director, as well as game director of both Lost in Random and Ghost Giant.
"Our team at MoonHood is going down a new creative path with our studio's debut title, using organic mediums and 3D scanning to transport physical art into the digital landscape," said MoonHood co-director Klaus Lyngeled in the press release. "With Fast Travel Games as our publishing partner, we can ensure our dark, gritty, and poetic adventure will reach players far and wide. Follow us on social media to see some of our character sculptures, and tell us which ones you look forward to seeing most in the game."
Fast Travel Games head of publishing Patrick Liu added, "At Fast Travel, we aim to bring unforgettable VR games to the masses, and we're happy to help deliver equally amazing console and PC games as part of that. By partnering with the talented creatives at MoonHood, we can continue to work toward this goal by creating a surreal game not yet seen on any platform. MoonHood's team of veteran storytellers and artists have captured fantastical ideas from the imagination and brought them stunningly to life with real clay sculptures, making it a must-play game."
Watch the studio teaser video below.
Studio Teaser