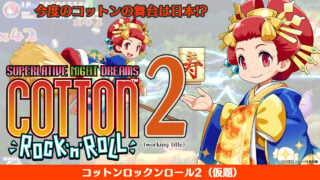 SUCCESS Corporation has announced Cotton Fantasy 2 (title tentative) for console, PC, and arcade. A release date was not announced.
The original Cotton Fantasy is currently available for PlayStation 4, Switch, PC via Steam, and arcade.
Here is the announcement trailer video description:
The next Cotton game is set in Japan!?

The latest entry in the shooting game series that depicts the adventures of the familiar, gluttonous witch Cotton has finally begun development! Furthermore, the stage of her next adventure is Japan!?

Cotton soars through the skies, dressed as an oiran, in an all-new world! Development on Cotton Fantasy 2 is now underway!
Watch the announcement trailer below.
Announce Trailer