Anger Foot 'Gameplay' trailer
Fast-paced first-person action game due out in 2024.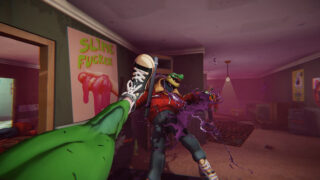 Publisher Devolver Digital and developer Free Lives have released a gameplay trailer for fast-paced first-person action game Anger Foot.
Here is an overview of the game, via Devolver Digital:
Anger Foot is a lightning-fast hard bass blast of kicking doors and kicking ass. Crash through the caffeine-fueled fever dream of Shit City, putting the boot to a menacing menagerie of merciless gangsters.

Unleash the world's deadliest feet on a colorful cast of anthropomorphic enemies. Clearing out slums, sewers, and skyscrapers as you grab new weapons, unlock new sneakers, and upgrade your powers in absurd and wonderful ways. Kick and shoot your way to the exit as you leave behind a smoldering trail of shattered doors, broken bones, and crumpled energy drinks.
Anger Foot is due out for PC via Steam in 2024.
Watch the trailer below.
Gameplay Trailer