Xbox Game Pass adds Airborne Kingdom, Broforce Forever, Everspace 2, and more in early August
Plus Celeste available today.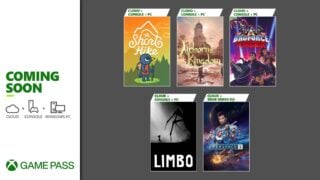 Microsoft has announced new titles coming to Xbox Game Pass in early August, which includes Airborne Kingdom, Broforce Forever, Everspace 2, and more.
Get the details below.
■ Available Today

Celeste (Cloud, Console, and PC) – Help Madeline survive her inner demons on her journey to the top of Celeste Mountain, in this super-tight platformer from the creators of TowerFall. Brave hundreds of hand-crafted challenges, uncover devious secrets, and piece together the mystery of the mountain.

■ Coming Soon

August 3

A Short Hike (Cloud, Console, PC) – Hike, climb, and soar through the peaceful mountainside landscapes of Hawk Peak Provincial Park. Follow the marked trails or explore the backcountry as you make your way to the summit. Along the way, meet other hikers, discover hidden treasures, and take in the world around you.

August 8

Broforce Forever (Cloud, Console, and PC) – Broforce is an action-packed side-scrolling run 'n' gun ode to freedom, putting you in control of an under-funded, over-powered paramilitary organization dealing exclusively in excessive force. Included is the long-awaited Broforce Forever content, which offers an improved and expanded campaign with new unlocks, along with six new ultra patriotic bros, and four new democracy-spreading challenge levels!

August 9

Limbo (Cloud, Console, and PC) – Limbo is an award-winning indie adventure, critically acclaimed for its captivating puzzle design and immersive sound and visuals. Its dark, misty spaces and haunting narrative will stay with you forever.

August 10

Airborne Kingdom (Cloud, Console, and PC) – Airborne Kingdom is a stunning airborne city building and management game. Grow your unique town among the clouds and fly it across a wide-open landscape. Explore the skies to restore serenity to the world below!

August 15

Everspace 2 (Cloud and Xbox Series X|S) – Available now on PC and coming soon to Xbox Series X|S and Cloud gaming! Step into the pilot seat in this fast-paced single-player space shooter where brutal challenges stand between you and epic loot. Embark on a sci-fi adventure where massive, handcrafted areas are packed with secrets, puzzles, and perils! Level up, craft, and loot better gear to survive on the edge of space.

■ In Case You Missed It

FIFA 23 (Cloud) EA Play – The World's Game is now available with Cloud Gaming via Game Pass Ultimate and EA Play, with both men's and women's FIFA World Cup tournaments, the addition of women's club teams, and more ways to play your favorite modes. Hit the pitch today, plus claim monthly FIFA 23 member rewards.

■ Downloadable Content / Game Updates

Available Now

Microsoft Flight Simulator World Update XIV: Central Eastern Europe – World Update XIV captures the majesty, charm and allure of Czechia, Slovakia, Hungary, Slovenia, Croatia, and Bosnia-Herzegovina. The region bristles with history, architectural wonders, and stunning scenery. The Central Eastern Europe countries beckon exploration from above with never-before-seen fidelity, including 103 points of interest, new landing challenges, and more. Available for free to all owners and Game Pass members. The sky is calling!

■ Xbox Game Pass Ultimate Perks

Available Now

PUBG Battlegrounds: 2023 Summer Pack – Don't miss out on this special edition PUBG 2023 Summer Pack, featuring the return of the Floral Yukata Set along with additional Hunter's Chests, Keys, and Contraband Coupons. Included with your Xbox Game Pass Ultimate membership!
Neverwinter: House Baerne Coupon Choice Pack – Start your own adventure with the exclusive House Baerne Scion Pack! This pack includes a House Baenre Companion Coupon Choice Pack and a Rank 3 Enchantment Choice Pack. Choose between one of the following for the House Baerne Coupon Choice Pack: 100 percent off one of four companions in the Zen market or 1500 Zen Value of Companion Upgrade Tokens. Requires Neverwinter to use.

August 2

Phantasy Star Online 2 New Genesis: August Member Bonus – Jump into the all new PSO2 New Genesis with some items to give you a hand! N-Half Scape Dolls (x6) to help revive you during intense battles, and Photon Chunks (x50) to strengthen weapons and units. Requires Phantasy Star Online 2 New Genesis to use.

■ Xbox Game Pass Quests

August quests launch today featuring games that tie into the Recent Blockbusters collection! Find new Quests by going to the Xbox Game Pass section on your console or on the Xbox Game Pass Mobile app and start earning Microsoft Reward points.

Available Now

Halo: The Master Chief Collection (250 points – Ultimate only) – Get 5 Multiplayer Kills
Tunic (5 points) – Play
Earn an Achievement (50 Points – Daily) – Earn an achievement in any Game Pass game

■ Leaving August 15

The following games are leaving the library soon, but there's still time to show them some love before they go. Save up to 20 percent with your membership discount to keep these games in your library!