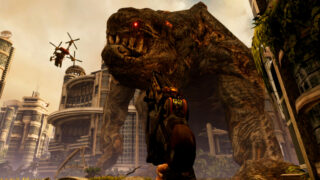 Bulletstorm VR will launch for PlayStation VR2, PC via Steam, and Quest on December 14, publisher People Can Fly and developer Incuvo announced as part of Gamescom 2023: Opening Night Live. Pre-orders are now available.
Here is an overview of the game, via People Can Fly:
About

Step into the boots of Grayson Hunt after a crash landing on an abandoned resort planet forces him to make a hard choice: survival or revenge. An exiled member of the elite assassin group Dead Echo, Grayson's blind desire for vengeance finds his crew stranded on Stygia where he can finally confront the commander behind his betrayal—or get his team off the planet alive.

Immerse yourself into the world of Bulletstorm VR.

Key Features

Fight everything from crazy raiders to colossal sky-scraper-sized beasts.
Switch between melee and ranged combat for the ultimate Skillshots.
No place like the virtual reality space to play around with the Energy Leash.
All of Bulletstorm's unique sci-fi arsenal is in your hands. Literally.
Control your bullets in mid-air to reach your enemies behind covers.