Boyhood's End Episode 1 delayed to fall
No longer due out in August.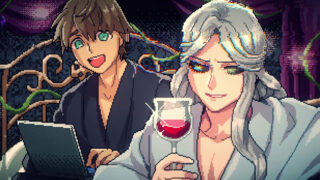 Publisher WSS playground and developer Bukiri Clock have delayed the first episode of episodic science-fiction horror adventure game Boyhood's End from its previously planned August release window to this fall.
Here is an overview of the game, via its Steam page:
About

When does childhood end? Both humans and the inhuman will find the answer at the end of a cycle of fight and flight.

Solve puzzles and explore the world, depicted in hand-drawn pixel art. Watch beautifully animated conversations between the main characters. Join a young boy on his adventure and experience his story set in a hardcore sci-fi world.

Boyhood's End is a juvenile science fiction horror adventure game, in which the world is ruled by a mechanical overlord "R. Karellen." Every aspect of every person's life is rated with a "human score," and R. Karellen decides everything from academic and professional careers, romantic interests, to one's daily meals.

The protagonist, Giovanni, has the lowest human score among the entire human race. Every day, he receives "special treatment" for everything including his meals and classes. On top of that, he gets bullied relentlessly by his classmates at the School, both in real life and online.

But one day, everything and everyone in the school starts attacking Giovanni, trying to "remake" him and raise his human score by making him "more human." A senior student, the famously eccentric genius Campanella, reaches out to Giovanni, and they hop onto (and take over) a driverless train on the galactic railroad. And so, Giovanni gets swept up in a journey to find the "Crimson Southern Cross," located at the farthest edge of the universe.

On their journey, the boys will meet great leaders of the past and pull reckless and destructive "pranks" on them all. Through their encounters with the history, twisted mysteries, and various horrors of the world, they will eventually have to confront the end of their own childhood.

Oh, did you hear that? The boys are (pointlessly) sounding the train whistle. Looks like it's time for the galactic express to depart.

Characters

Giovanni

"Shut up! I couldn't care less about your twisted logic, but here's the thing, I'm a human! And you'd better start treating me like one!"
Has a wanted criminal as a father and the lowest human score in the universe. Gets treated like trash by other people and even the system itself. Has a cynical personality and a sharp tongue, but has a soft spot for his family. Always has to earn money to pay his sister's hospital fees. Although he lives in an age where humans haven't had to write programs by themselves for generations, Giovanni knows the ancient craftsman technique of writing his own code from scratch. He frequently uses his coding skills to do shady side gigs on the dark web.

Campanella

"Come on, show me! Show me the true potential of humanity! Show me something unpredictable, something that could ruin the world as we know it—something a man-made thing could never do!"
Has the highest human score in the Gymnasium, and very talented in everything from academics to sports, but also has the highest total score deduction in the Gymnasium due to his frequent eccentric behavior. Talk about extreme. Campanella holds "humans" in high regard, and acts arrogantly around the inhuman and artificially intelligent R. However, many claim to have seen him chatting and playing around with R for no reason in particular.
Watch a new trailer below.
Characters Trailer
English
Japanese
Korean
Chinese