Atelier Resleriana: Forgotten Alchemy and the Polar Night Liberator second trailer, latest details and gameplay
Meet the second protagonist, Valeria.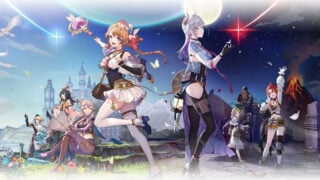 Publishers Koei Tecmo and Akatsuki Games, and developer Gust have released the second official trailer and latest information for Atelier Resleriana: Forgotten Alchemy and the Polar Night Liberator, the 25th mainline entry in the Atelier series.
Get the details below.
Game Cycle

The game follows the Atelier series' mainstay structure of "gathering," "synthesis," and "battle."

You can progress through the story without expending stamina, so you can continuously make progress without issue. The home screen will change as the story progresses.

Dynamic Battles with Animated Characters

Battles use a timeline system. The key to winning a battle is determining how to acquire "Effects Panels" that possess various effects while reading the order of actions.

By bringing in synthesized items, you may be able to gain the upper hand in battle.

During battle, you must utilize the three skills allotted to each character as the situation calls for it.

By acquiring "Burst Panels," you can unleash a special move called a "Burst Skill." These are exhilarating, super flashy attacks beyond compare.

Train Your Favorite Characters

Characters can be trained in various ways, including through "Upgrade Materials," "Items," and "Memoria."

Grow Board – Unlock panels to develop your characters as you see fit.
Memoria – Illustration cards featuring famous scenes from the Atelier series, as well as "What If?" scenes. You can strengthen your characters by equipping these.
Training Quests – Use stamina to acquire EXP and the upgrade materials necessary for developing your characters.

Gathering #1: Make Your Way Through Mysterious Dungeons

There are various ways to gather materials within a dungeon. Use "Gather in Dungeon" or "Buy in Shop" to gather the materials necessary for synthesis.

In the depths of a field, you may encounter a boss. Clearing a quest unlocks the next difficulty level, and higher difficulty quests offer even greater rewards.

Gathering #2: Aim for the High Score in Score Battles

Materials required for synthesis can also be gathered through "Score Battles." In Score Battles, the higher your score, the greater the reward.

Aim for the high score in various ways, such as by not taking damage, or by dealing a large amount of damage with a single attack.

Deep "Synthesis" with Simple Controls

The mainstay "synthesis" system of the Atelier series is now easier to play again and again.
Using mana, multiple alchemists join forces using acquired materials to perform synthesis.
Once you acquire a recipe, select the characters and materials.
Examine the character's "Gift Color" and characteristics, then create their specialty items.

Characters will get to work during the synthesis scene. Mix and match your favorite character combinations.

The mana required for synthesis will recover over time. Enjoy easy, yet deep synthesis through trial and error.

There are over 100 recipes to acquire. Aim to complete every recipe.

Recipes can be obtained in various ways, including leveling up your character or clearing stories.

A Second Protagonist

In addition to the previously announced Resna Sternenlicht (voiced by Saho Shirasu), a second protagonist named Valeria (voiced by Manami Numakura) will also appear.

Key Visual

New Characters

Atelier Series Legacy Characters

Characters from previous Atelier series games will appear as visitors from another world called "strangers," and new stories will unfold.

Atelier series legacy character appearances include:

Pre-Registration Campaign

100,000 pre-registrations – Starguide Gem (x100) – Achieved
200,000 pre-registrations – Starguide Gem (x100) (total 200) – Achieved
300,000 pre-registrations – Starguide Gem (x100) (total 300) + SSR Memoria: Resna

Exhibiting at Tokyo Game Show 2023

Atelier Resleriana: Forgotten Alchemy and the Polar Night Liberator will exhibit at Tokyo Game Show 2023.

Attendees can look forward to a photo spot and alchemy pot from the Atelier series. Official cosplayers dressed as characters from the game will also appear. Attendees who visit the booth will receive an "Original Shopper" bag as a gift. Additionally, those who show us a specific image will receive a Puni key chain as well.
Atelier Resleriana: Forgotten Alchemy and the Polar Night Liberator is due out for PC via Steam, iOS via App Store, and Android via Google Play in 2023 in Japan.
Watch the trailer and second official broadcast below, including new gameplay footage.
Trailer #2
Official Broadcast #2
22:12 to 23:50 – Battle Gameplay #1
24:11 to 25:51 – Battle Gameplay #2
28:05 to 29:04 – Character Development Gameplay #1
29:15 to 30:13 – Character Development Gameplay #2
34:20 to 35:50 – Dungeon Gameplay #1
36:03 to 37:35 – Dungeon Gameplay #2
39:55 to 41:17 – Synthesis Gameplay #1
41:40 to 43:03 – Synthesis Gameplay #2
58:22 to 1:00:22 – Valeria Montage
1:12:14 to 1:13:22 – Atelier Legacy Characters Montage
1:14:18 to 1:15:32 – Atelier Legacy Characters Scene
1:19:37 to 1:20:30 – Atelier Legacy Characters Battle Gameplay