Wo Long: Fallen Dynasty details 2023 roadmap
A look at the content to come for the remainder of the year.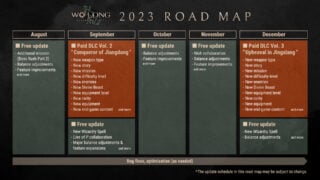 Publisher Koei Tecmo and developer Team NINJA have released the first "Director's Letter" for Wo Long: Fallen Dynasty, in which producer and director Masakazu Hirayama shares and discusses the roadmap of content coming to the game in the near future.
Get the full update below.
Roadmap

In our roadmap for the game, our plan is to try and provide you with something to improve the experience every month!

With regards to the direction of year-round balance adjustments and feature expansion, we will focus on the following two points:

—Roadmap

August 2023

Free Update

Additional mission (Boss Rush Part 2)
Balance adjustments
Feature improvements
And more

September 2023

Paid DLC Vol. 2 "Conqueror of Jiangdong"

New weapon type
New story
New mission
New difficulty level
New enemies
New Divine Beast
New equipment level
New rarity
New equipment
New end-game content
And more

Free Update

New Wizardry Spell
Lies of P collaboration
Major balance adjustments and feature expansions
And more

October 2023

Free Update

Balance adjustments
Feature improvements
And more

November 2023

Free Update

Nioh collaboration
Balance adjustments
Feature improvements and more

December 2023

Paid DLC Vol. 3 "Upheaval in Jiangxiang"

New weapon type
New story
New mission
New difficulty level
New enemies
New Divine Beast
New equipment level
New rarity
New equipment
New end-game content
And more

Free Update

New Wizardry Spell
Balance adjustments
And more

Boss Rush Mission Part 2

We know you're looking for more challenges, so we're bringing you the second multiple boss mission! This feature was first added in the Ver1.08 patch in May, providing higher difficulty missions focusing on bosses that did not appear in the first mission. I hope you will take on this challenge, taking full advantage of the skills you have been honing on a daily basis.

And similar to the "Crouching Dragons' Battle Royale," this is a mission that can be played online, so you'll be able to enjoy it through co-op play while aiming to clear the mission and earn rewards.

New End-Game Content

In DLC Vol. 2 (coming in September), new end-game content separate from additional difficulty levels will be added. Further details will be released in the coming weeks, but we are planning end-game content that aims to be played repeatedly based on different "strategy," which is one of the themes of Wo Long.

In addition, we are planning further expansion through this end-game content so that DLC Vol. 3 can be played at a deeper level, so please look forward to it.

Major Balance Adjustments and Feature Expansion

When DLC Vol. 2 is released, we are also planning a major balance adjustment and feature expansion. As touched upon in the first section, "expanding the scope of strategy with a focus on action and RPG" and "improving the ease of playability" will be the main direction we will take as we make adjustments and / or additions to various features.

For example, in terms of action, this includes the strengthening the uniqueness of each existing weapon type, expanding Martial Arts and Spirit, raising each of the infrequently used action types, and adjusting the timing of cancelling actions. In terms of RPG, this takes into account adjusting the base of infrequently used Special Effects and reviewing how status is reflected. In regards to user interface, we are addressing user interface controls and flows that are not easy to use. These are just some of the things that we are planning in the coming months.

In advance of DLC Vol. 2, we are also planning for an update to make adjustments related to drops, as well as additional features. It will take some time before these are released, so please be on the lookout for upcoming information.

Collaboration

Collaborations are planned in September with Lies of P, and in November with Nioh. The content we are considering will be different than what we have released for the Naraka: Bladepoint collaboration. We are working hard on these partnership contents in order for fans of these games to be delighted with the outcome. I hope you will all look forward to some exciting things to come!

Optimization and Bug Fixes for the PC Version

We can't talk about the future without talking about the past and present difficulties with the game. We apologize for the inconvenience caused to everyone playing the PC version of Wo Long since its release. I can assure you that the development team has read each and every report posted on various bulletin boards, social channels, our customer support department, and we have placed top priority on optimization and bug fixes. However, there are many combinations of PC environments in each household, and while our team continues to expand the environments where the game is checked post-launch, it will take time to replicate issues and properly fix them. I promise that we will continue to make improvements so that you can play with peace of mind as soon as possible. We apologize for this delay.

From the bottom of our hearts, we truly appreciate everyone who takes time to not only play our game, but to send us comments, streams, and screenshots in hopes of helping us continue to make the experience better for all gamers. In order to fulfill your expectations, our development team is committed in the efforts to make the game even more enjoyable for you. With that in mind, I hope we can count on your continued support for Wo Long: Fallen Dynasty.
Wo Long: Fallen Dynasty is available now for PlayStation 5, Xbox Series, PlayStation 4, Xbox One, and PC via Steam and Microsoft Store. It is also available via Xbox Game Pass.