Stumble Guys coming to consoles, starting with Xbox Series and Xbox One
Free-to-play battle royale game currently available for PC, iOS, and Android.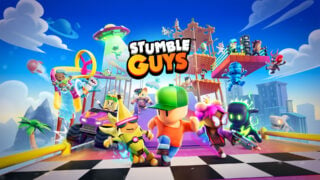 Scopely will release free-to-play battle royale game Stumble Guys for consoles starting with Xbox Series and Xbox One, the developer announced. Pre-registration for the beta is available now via the official website.
Stumble Guys is currently available for PC via Steam, iOS via App Store, and Android via Google Play.
"Providing our Stumble Guys communities with new ways to play is one of our highest priorities—and expanding to console is one of the top requests from fans," said Jamie Berger, senior vice president of marketing for Stumble Guys at Scopely, in a press release. "Starting with our launch on Xbox, 'Stumblers' will love to experience our ever-evolving 32-player competitions like never before—on a TV and with a controller in-hand. With cross-progression for existing accounts at launch and cross-play coming soon after, we're welcoming more people to join the party with current friends and all-new ones—wherever they play games."
Here is an overview of the game, via Scopely:
The fast-paced, frenetic and highly-social fun of Stumble Guys will launch first on Xbox, giving the game's massive and dedicated community more ways to battle with friends in an epic quest to be the last "Stumbler" standing.

Xbox players can pre-register now on StumbleGuys.com to join the party on Xbox Series X|S and Xbox One and lock in launch benefits, including early beta access and free launch gifts.

Stumble Guys has built a massive following, staking its claim as one of the top 10 most downloaded apps in the world in 2022. The game is enjoyed by tens of millions of players every week, and is one of the most played games in 50+ countries. The Stumble Guys community is also one of the most engaged and loyal in the world, with 45B+ engagements across TikTok, YouTube, Discord, and more.

Players have flocked to Stumble Guys' accessible and competitive play style that is constantly evolving with varied events, tournaments, and imaginative levels. The experience regularly adds new mechanics, offering "Stumblers" more ways to cross the finish line, whether on foot, in vehicles, or through a high-stakes First-Person "Stumbler" mode. Powered by community-led gameplay, fans can join massive tournaments and events hosted by top creators, or hang out and play with friends however they like in Custom Parties.

Featuring deep customization options, Stumble Guys delivers endless possibilities for self-expression. From angels to zombies or anything in between, there is a "Stumbler" for every mood or season. The Stumbleverse is also filled with wildly creative and rare collectibles, skins, emotes, and more that can be personalized to reflect each player's unique style.

The console version of Stumble Guys will allow "Stumblers" to seamlessly utilize accounts from mobile and PC, no matter which platform they use to play.
Watch the announcement trailer below.