Rear Sekai launches October 12 in Japan
New details from Weekly Famitsu.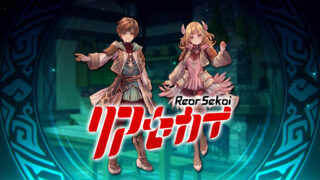 Rear Sekai—the January-announced action RPG from publisher Bushiroad Games and developer HAKAMA, and planned and produced by Yoshifumi Hashimoto—will launch for Switch on October 12 in Japan for 6,780 yen, the latest issue of Weekly Famitsu reveals.
In Rear Sekai, players will be able to enjoy a double life in which the fantasy world and reality are linked. Outside of the town are dungeons full of monsters and gigantic boss battles. Players will be able utilize various actions to explore, and find weapons that boost their stats inside treasure chests. In town are partner characters, and by deepening your relationships, you can acquire Alliances for the Build System, and romance will enhance the protagonist's battle tactics. You can fall in love by further increasing your favorability.
The game's voice cast includes:
Male Protagonist (voiced by Kaito Ishikawa)
Female Protagonist (voiced by Saori Oonishi)
Lisa (voiced by Misaki Watada)
Brad (voiced by Chiaki Kobayashi)
Hajime (voiced by Masaaki Mizunaka)
Hikari (voiced by Hitomi Ueda)
Chitta (voiced by Sayumi Suzushiro)
The opening theme song is sung by Asaka.
Thanks, Ryokutya2089 and Games Talk.