Rain World developer VIDEOCULT announces vehicular combat racing game Airframe Ultra for PC
Welcome to the violent underground world of Ultra Circuit racing.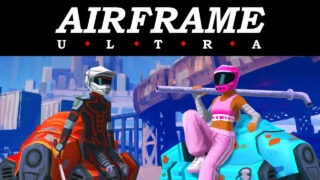 Publisher Akupara Games and Rain World developer VIDEOCULT have announced vehicular combat racing game Airframe Ultra for PC (Steam). A release date was not announced.
"It's the year 2023, why are there no super cool retro cyberpunk hoverbike racing combat games? I feel like I was lied to by society," said VIDEOCULT co-founder James Therrien in a press release. "So it looks like we're going to have to do it ourselves. We put in katanas, molotov cocktails, a chain that you swing around and use as a whip. Heck you can even joust with knocked down street signs, like some crazed street knights. Cervantes in a moto jacket. Do you remember Twisted Metal? Vigilante? Carmageddon? I delight in memories of chaotic fun with vehicular carnage: explosions, shouting names at my friends. To deny the youth of today those same halcyon days would be tragic. It's up to us. So pick up your helmet and your uzi, dust off your rusted airframe and join us in this celebration of speed and violence! Welcome to Airframe Ultra."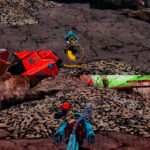 Here is an overview of the game, via Akupara Games:
About

Airframe Ultra is a fast-paced, vehicular combat racing game. Juice the throttle and tighten your fist as you fight for your life in VIDEOCULT's retro multiplayer battle-brawler where you'll chase that ever so addicting rush of blood, sweat, and chrome. Just to get your final shot at obtaining freedom and fame, be that on the road or on your half-assed Airframe. Only one question remains—what are you willing to sacrifice for salvation? Or as it's better known around here, the sweet sweet taste of nitrous adrenaline.

Three feet above the blacktop lies another city. Its citizens are the desperate, the thrill-seeking, the troublemaking and the mad. At this height, the legends of the street are made.

Welcome to the violent underground world of Ultra Circuit racing.

From the cracked asphalt of San Juaro and the Ysidro edgelands to the hulking megacities of the Texicali ZEGO zone, Airframe riders from all across the Southlands compete for fame, fortune, and a chance at glory… three feet above or six feet below.

Key Features
Watch the announcement trailer below. View the first screenshots at the gallery.
Announce Trailer