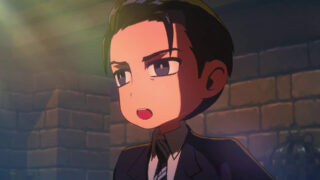 ATLUS has released a new trailer for Persona 5 Tactica introducing Toshiro Kasukabe (voiced by Tomoake Maeno).
"A young, up-and-coming Diet member rumored to be the next prime minister," reads Toshiro's official character description. "After becoming lost, then imprisoned in the Metaverse for reasons he can't recall, he opts to tag along with the Phantom Thieves after being rescued. He is straight-laced and hyperrational, and although he shines as a strategist thanks to his political savvy and his ability to view situations objectively, a neurotic fear of fighting and injury will often set him back into a safety-first mindset."
Persona 5 Tactica is due out for PlayStation 5, Xbox Series, PlayStation 4, Xbox One, Switch, and PC via Steam on November 17 worldwide. It will also be available via Xbox Game Pass. Read more about the game here and here.
Watch the trailer below.
Toshiro Kasukabe Trailer
English
Japanese