Into the Infinite: A Level Infinite Showcase set for August 23
First-look trailers, updates, "long-awaited" announcements, and more.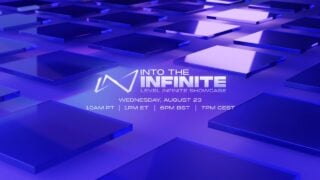 Level Infinite will host "Into the Infinite: A Level Infinite Showcase" as part of Gamescom 2023 on August 23 at 10:00 a.m. PT / 1:00 p.m. ET, featuring exclusive updates from Level Infinite and Tencent's Global Partner Studios, the company announced. You will be able to watch it on YouTube and Twitch.
The event description reads: "For the first time ever, Level Infinite is bringing a digital gaming showcase to global gamers featuring fresh content from a diverse range of games. Together with talented studios and partner brands, the Into the Infinite showcase will feature first-look trailers, updates on existing games, long-awaited announcements, and giveaways!"
The company also confirmed that the following titles will be playable at the Level Infinite booth at Gamescom 2023, which will run from August 23 to 27 at the Koelnmesse in Cologne, Germany:
Arena Breakout (MoreFun Studios)

Recently released for iOS and Android devices, Arena Breakout is the definitive next-gen immersive tactical first-person shoote for mobile devices. Shoot and loot your path to fortune in an ultra-realistic war simulation where those who will not risk cannot win. Modify an ultra-realistic weapon with the Ultimate Gunsmithing System and load up your rucksack however you desire. Each battle is a high risk, winner-takes-all gamble, so don't bring what you aren't willing to lose.

Assassin's Creed: Codename Jade (Ubisoft)

Assassin's Creed: Codename Jade brings the Assassin's Creed experience to mobile devices and is set in the third century BC, during the time of one of the first unified empires in China. An unprecedented era of trade and cultural exchange between East and West is just beginning, but with this comes new challenges and threats lurking in the shadows. From the Great Wall outside the empire's borders to the imperial capital of Xianyang, journey through a world filled with ancient history and hidden dangers. Defend against the Xiongnu and work to dismantle conspiracies, taking on greater responsibilities, and facing new challenges.

Assassin's Creed: Codename Jade will launch on iOS and Android devices, with a Closed Beta Test taking place from August 3 to 11.

GTFO (10 Chambers)

Gather your most skilled gamer friends to play brand new exclusive content in this intense co-op horror shooter from 10 Chambers. Stealth, strategy, and teamwork are the key to survival. Work together or die together.

Stampede: Racing Royale (Sumo Leamington)

Developed by Sumo Leamington and published by Secret Mode, Stampede: Racing Royale pits 60 players against one another across three-round eliminator events, culminating in a high-stakes finale to crown the winner. Rounds include Stampede Races, which offer classic karting action on outrageously inventive circuits against up to 59 other opponents, and Stampede Battles, where competitors are locked in power-up laden arenas to fight their way to victory.

Stampede: Racing Royale is coming to PC via Steam Early Access in 2023, and the first Steam Playtest will commence on July 27. Stampede: Racing Royale is coming to consoles at a later date.

Coming this summer to PC, PlayStation 5, and Xbox Series X|S, SYNCED is a futuristic cooperative shooter set in the near future of our world, where nanotechnology has become the backbone of civilization. In the wake of a cataclysm known as the Collapse, the nanomachines have turned against their creators, consuming humans to propagate themselves and transforming into the deadly Nanos. In this apocalypse, players take on the role of a Runner, brave fortune-seekers who scour the Meridian for the valuable nano-energy substance known as Nerva.

Weaponize your enemy—Runners can sync with any Prime Nanos they take down and then strategically deploy them against the Nano hordes and opposing players. Each of these Prime Nano classes—Crusher, Suppressor, Guardian, and Seer—have their own abilities, allowing Runners to select the one best suited to their playstyle.

Developed by NExT Studios, SYNCED will see players team up in squads of three to encounter high-octane player-versus-environment and player-versus-player battles.

Developed by Joe Madureira's (Darksiders) studio Airship Syndicate (Ruined King: A League of Legends Story), Wayfinder is a new character-based online action RPG published by Warframe creator Digital Extremes launching into Early Access on PC and PlayStation this summer. The world of Evenor is being consumed by a sinister force—the Gloom. As Wayfinders players will control the chaos and reconnect a fractured world as they choose a unique path through an online world of endless action and adventure with friends. To cease the Gloom's devastating decay of Evenor, players will choose from a variety of Wayfinders, each with their own unique story, play styles, and abilities, harnessing their power together to defend Evenor from forces that seek to destroy it.