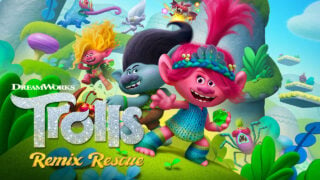 Publisher GameMill Entertainment and developer Petit Fabrik have announced 3D platformer DreamWorks Trolls Remix Rescue for PlayStation 5, Xbox Series, PlayStation 4, Xbox One, Switch, and PC (Steam). It will launch in 2023.
DreamWorks Trolls Remix Rescue will cost $49.99 for the standard physical and digital edition. A Digital Deluxe Edition to be detailed at a later date will include additional playable content.
Here is an overview of the game, via GameMill Entertainment:
About

Only players can save the Trolls Kingdom from calamity in DreamWorks Trolls Remix Rescue! Players will travel across the magical world of Trolls, from Poppy & Branch's Pop Village to Barb's Volcano Rock City and Cooper's Vibe City, all to stop a melodic mastermind who's trying to alter the Trolls' musical harmony forever. They'll be able to play as beloved Trolls characters like Poppy, Branch and more. Players can also create their own Troll to jump, explore, dance, and master the art of "Hair-Jitsu"!

Key Features

Play as the Trolls – Choose from fan-favorite characters like Poppy, Branch, Guy Diamond and more on a magical journey across the Trolls Kingdom.
Customize a Troll – Players can create, customize, and play as their own Troll with a variety of hairstyles, facial features, outfits and more!
Learn the Art of Hair-Jitsu – Players can use their Troll's hair to whip at enemies, twirl it to rise up and hover like a helicopter, and use it to grab, carry, swing, throw, and smash objects along an exciting quest.​
Musical Mayhem – Compete to the beat in rhythm-based mini-games while solving fun and challenging environmental puzzles to unlock special new items and abilities.
Share the Fun with Friends – Play solo or together with friends in local cooperative play for up to four players.
Move to the Beat of the Trolls – The game soundtrack features music from DreamWorks Animation's Trolls film franchise, such as "Get Back Up Again," "Hair Up," and more!
View the first screenshots at the gallery.
Screenshots