Turn-based adventure RPG Hermit and Pig announced for PC
Dive into a conspiracy well above your pay grade.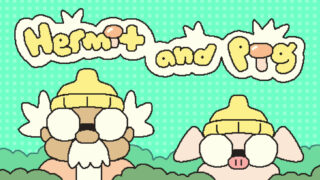 Heavy Lunch Studio has announced Hermit and Pig, a turn-based adventure RPG about a reclusive hermit and his truffle-hunting pig. It will be available for PC via Steam. A release date was not announced.
Here is an overview of the game, via its Steam page:
About

Hermit and Pig is a turn-based, adventure RPG about a reclusive hermit and his truffle-hunting pig. These unlikely heroes must explore, forage, fight, and overcome unfortunate personal shortcomings to solve the mystery of a sinister corporate plot.

Hermit and Pig set out one morning to forage mushrooms and avoid human interaction. When a girl from a nearby village shows up asking for help, they are plunged into a conspiracy well above their pay grade, which is zero dollars.

Key Features

Explore – Trek through different environments, nearly all outside of your comfort zone. Be aware of your surroundings and seek safe pathways forward.
Survive – Defend yourself against abnormally violent locals! Use your wilderness survival handbook to master combat maneuvers and become a sturdy, agile, old dude.
Forage – Collect mushrooms and dig up truffles to increase your chances of survival. Use found fungus to heal, buff, attack, barter, and more.
Investigate – Search for clues and overcome hermit-grade social anxiety. Question local citizens to uncover the truth behind the recent surge of local strangeness.
Watch the announcement trailer below.
Announce Trailer