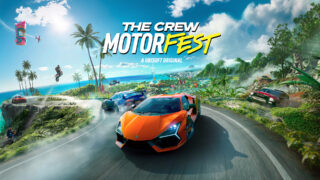 The Crew Motorfest will launch for PlayStation 5, Xbox Series, PlayStation 4, Xbox One, PC via Epic Games Store and Ubisoft Store, and Luna on September 14, publisher Ubisoft and developer Ubisoft Ivory Tower announced.
Here is an overview of the game, via its official website:
Celebrate All the Facets of Car Culture

Introducing the Playlists: a series of short thematic campaigns offering unique and exciting car culture experiences. Each one is carefully designed to immerse you in a different car culture universe, with tailored races, themed events, and other unique challenges. Master vintage classics or electric supercars, become a track champion or just cruise along your friends: there is always a Playlist for you.
Explore a Vibrant Hawaiian Open World With Your Crew

Get ready to experience the ultimate driving adventure on one of the world's most breathtaking islands: O'ahu, the jewel of the Hawaiian archipelago.

Do everything on your own or with other players: join high-speed street races through the bustling city of Honolulu, test your off-road skills on the ashy slopes of a volcano, master the perfect curve on the tracks. When you're ready to relax, kick back on the sunny beaches behind the wheel of your favorite supercar, or bring a buggy to explore the hidden paths of the luxurious rainforest.

Join Motorfest, an Always-renewed Haven for Car Lovers

Take part in an ever-changing program of activities: discover new outlooks on car culture through a selection of short thematic campaigns, intense driving races and various competitive live events. Collect hundreds of iconic cars from the past, present and future. At launch and beyond, The Crew™ Motorfest will always offer plenty of opportunities to show of your skills, your style, and leave your mark on the history of the festival.

The Playlists

15 playlists will be available at launch, for as much car culture universes, series of challenges, and exclusive rewards to unlock.
Watch a new set of trailers below. View a new set of screenshots at the gallery.
Gameplay Premiere Trailer
Deep Dive Trailer
Cinematic Introduction Trailer