Gloomhaven coming to PS5, Xbox Series, PS4, Xbox One, and Switch on September 18
Currently available for PC.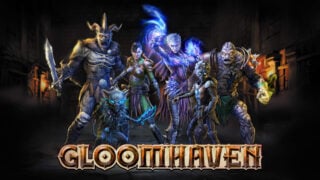 Tactical RPG Gloomhaven will launch for PlayStation 5, Xbox Series, PlayStation 4, Xbox One, and Switch on September 18, publisher Twin Sails Interactive and developers Flaming Fowl Studios and Saber Interactive announced.
The game will be priced at $39.99 / €39.99 for the Mercenaries Edition, which includes the base game and downloadable content "Solo Scenarios: Mercenary Challenges," and $49.99 / €49.99 for the Gold Edition, which includes the Mercenaries Edition content, downloadable content "Jaws of the Lion," and four accompanying skins. Pre-orders are currently available at discount prices of $35.99 / €35.99 and $44.99 / €44.99, respectively.
Gloomhaven first launched for PC via Steam and GOG on October 20, 2021 following an Early Access period that began on July 17, 2019.
Here is an overview of the game, via Twin Sails Interactive:
Originally released on PC and Mac with over 500k units sold plus "Very Positive" reviews on Steam, Gloomhaven is set in a dark fantasy universe that combines the best elements of strategic board gaming and digital adventuring. Delve into the entire epic board game campaign, covering the original 95 scenarios and event missions brimming with danger and excitement, to become the best mercenary team in the city of Gloomhaven. Or play through the digital-exclusive Guildmaster campaign, where over 160 missions await. There are thousands of abilities to discover, along with hundreds of perks, enhancements, and gear to customize your loadout as you master your team synergies and deck to survive against hordes of fearsome undead, monsters, and demons.

"Jaws of the Lion" is Gloomhaven's first major content expansion and includes four new mercenaries, new enemies, 22 new city events, 10 new items, 24 new battle goals, 25 scenarios from the original board game expansion and more, delivering over 30 hours of new content that takes players to the undercity of Gloomhaven.

The downloadable content "Solo Scenarios: Mercenary Challenges" is a digital adaptation of Isaac Childres' board game expansion, refined and rebalanced for digital play. This second downloadable content offers 17 deadly Solo Scenarios that players can complete to obtain 17 unique items—each designed for one specific mercenary. Featuring 20 hours of bonus content, this downloadable content creates a punishing challenge for experienced players to truly prove their skills.

Both downloadable content packs will be available on consoles at launch, and each is fully playable in online cooperative play for up to four players.
Watch a new trailer below.
Consoles Release Date Trailer