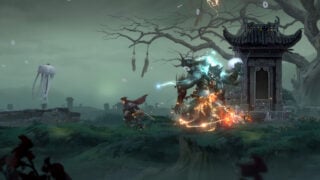 Side-scrolling action RPG Eastern Exorcist will launch for PlayStation 4 and Switch on June 8, publisher Bilibili and developer Wildfire Game announced.
Eastern Exorcist first launched in Early Access for PC via Steam on August 14, 2020, followed by a full release on July 7, 2021, and Xbox One on May 18, 2023.
Here is an overview of the game, via Bilibili:
About

Eastern Exorcist is a stunning 2D side-scrolling action RPG set in a fantasy eastern world with vicious spirits and monsters. Play as a skilled exorcist against chaotic evil to fight your way through the brutal world, and experience different stories of joy and sorrow.

Key Features

Art Direction – All hand-drawn Chinese ink painting styles, with many atmospheric scenes.
Combat System – Use your sword to execute demons and monsters with tactical combat mechanics in hand-drawn frame-by-frame action design.
Storyline – Experience a complicated journey with joy and sorrow as an exorcist.
Cutscenes – Cutscenes are shown in the form of Chinese Opera.