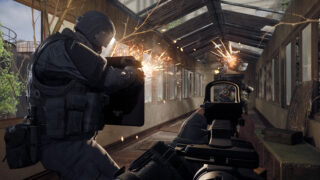 CROSSFIRE: Sierra Squad will launch for PlayStation VR2 and PC virtual reality headsets via Steam in August, Smilegate announced. The PC version is newly announced.
Here is an overview of the game, via Smilegate:
About

A no-nonsense, battle-focused arcade shooter, CROSSFIRE: Sierra Squad will have players fighting a seemingly endless enemy force with high AI intelligence.

In CROSSFIRE: Sierra Squad, you are the leader of an elite paramilitary fireteam within the Global Risk organization facing an unexpected skirmish with the rival Black List organization. Battle a variety of crafty enemies in a relentless search for the truth and prove why you were selected as the intrepid leader of the most feared special unit in existence—Sierra Squad!

CROSSFIRE: Sierra Squad is being developed to immediately immerse players in the action, with no delay or steep learning curve. Players will experience all the high-quality characters, maps, and movement that CROSSFIRE fans have become accustomed to, now in VR. Fierce paramilitary action between rival factions Black List and Global Risk in a variety of indoor and outdoor battle scenes with over 60 campaign missions will keep mercenaries riveted.

39 types of weapons including pistols, rifles, throwable—and throw back-able—grenades and sniper rifles with revolutionary scope mechanics provide plenty of options to dispatch 17 types of enemies. Players will also engage with heavy artillery like helicopters and LAV's in full 360-degree VR space.

Dominating the battlefield out won't be easy, so if going solo proves too challenging, players can recruit up to three other friends and jump into large-scale co-op play!

PlayStation VR2 Key Features

High-resolution graphics.
4K high dynamic range at 90 / 120 hertz.
Headset rumble support.
Haptic feedback and adaptive triggers support.
Eye tracking support.
Multiplayer cooperative shooter supporting up to four players.
Watch a new trailer below.
Summer Game Fest 2023 Trailer