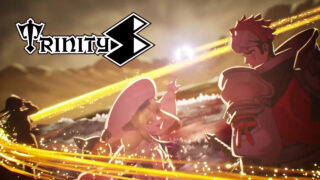 Publisher Phoenixx and Japanese developer Indie-us Games will release "boss rush" cooperative online action game TrinityS for PlayStation 5 and PlayStation 4 this fall, the companies announced.
TrinityS first launched in Early Access for PC via Steam on April 27, 2022.
Here is an overview of the game, via its Steam page:
About

TrinityS condenses the thrilling elements of massively multiplayer online RPG endgame encounters into a white-knuckle, "Boss Rush" cooperative online action game for up to three players. Skip the massively multiplayer online level grind and face off against fearsome foes that require precise coordination to defeat!

All of the Fun, None the "MMO Grind"

TrinityS highlights the best parts of massively multiplayer online endgame content by skipping the repetitive grind for levels or gear. Get straight to the action with well-designed boss encounters that will test players' timing, skills, and coordination.

Up to three players can challenge a variety of formidable bosses, each with its own unique fight mechanics and attacks. In this game, where movement and positioning are crucial, a momentary error in judgment can be fatal. Dive right into the excitement of MMO endgame content with your friends.

Trinity is the Magic Number!

TrinityS features three unique characters:

Grey is a Knight who serves as a shield to protect his allies.
Emile is a Wizard who clears away enemies with powerful magic.
Bell is a Priest who supports allies with her healing power.

Each adventurer has different skills that can be customized between battles, allowing you to fine-tune each to your play style. Choose the role that suits you best and learn to use the adventurer's different characteristics and skills with your team to take down the bosses!

Positioning and Communication are the Keys

In TrinityS, position and communication are paramount to defeating the bosses. Being in the right place lets you avoid massive damage from attacks and access powerful passive buffs the longer your character stands in place.

Communicate with your team to coordinate positions and timing of special skills to your party to victory!

Play Solo

TrinityS is a cooperative online action game but can also be played solo. Partner with AI companions to hone your skills on different bosses, experiment with other skills or learn to play a different adventurer.
Watch a trailer below.
Short Gameplay Trailer (April 2023)