Attack on Titan VR: Unbreakable delayed to winter, 'First Concept' trailer
First look at the virtual reality Attack on Titan game by UNIVRS.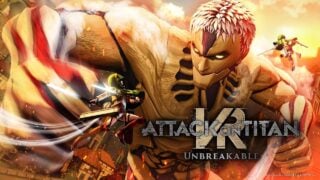 UNIVRS has delayed Attack on Titan VR: Unbreakable from its previously planned summer release window to this winter. It will be available for Quest 2 and Quest Pro.
Here is an overview of the game, via UNIVRS:
About

Fight for your life against man-eating Titans in Attack on Titan VR: Unbreakable. In a thrilling mix of hunting and action, join the Scout Regiment and put on your Omni Directional Mobility Gear to defend and protect humanity against the Titans.

Key Features

Exhilarating Flight Experience – Get ready for a unique adventure with UNIVRS' anti-motion sickness technology that will help bring the thrilling cross-range combat against killer Titans to life.
Multiplayer – Team up with another member of the Scout Regiment in two-player cooperative play or go solo in the fight for humanity.
Devise a Strategy – There will be a number of enemies out to get you. With a wider range of weapons at your disposal, devise and execute the best plan to cut down the Titan population in the city.
Watch a new trailer below.
First Concept Trailer
English
Japanese