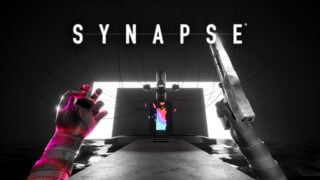 Virtual reality action shooter Synapse will launch for PlayStation VR2 on July 4, developer nDreams announced.
Get the latest details below.
In a new trailer unveiled today, players get a fresh look at the game's dual-wielding gameplay alongside a first glimpse of the game's intriguing narrative that places them inside the twisted mind of a villain during a high-stakes mission to prevent a catastrophic attack.

David Hayter (voice of Snake from Metal Gear Solid and acclaimed screenwriter of X-Men and Watchmen) plays Colonel Peter Conrad, a once respected black ops leader who has since gone rogue and become a notorious enemy of the state. His increasingly deranged thinking has led to him threatening to unleash Armageddon. Hayter teams up once again with nDreams, having voiced General Zhurov in the studio's 2020 award-winning Phantom: Covert Ops.

Jennifer Hale (voice acting credits include Commander Shepherd in Mass Effect and Rivet in Ratchet & Clank: Rift Apart) plays Handler Clara Sorensen, a director of the ultra-secretive Bureau V. Sorensen is the player's sole link to the outside world from within the Colonel's mind and acts as a guide through his warped subconscious. Hale is reunited with her co-star Hayter, having played the role of Naomi Hunter alongside him in Metal Gear Solid.

In Synapse, players take on the role of a highly trained operative tasked with breaking into the Colonel's mind to extract crucial intel that will put an end to his plans for mass destruction. The game has been crafted to take full advantage of PlayStation VR2's next generation feature set with eye-tracking enhanced, motion-controlled telekinesis and adrenaline fuelled gunplay that that players can feel through the PlayStation VR2's Sense controllers' haptic feedback and adaptive triggers.
Watch a new trailer bleow. View a new set of screenshots at the gallery.
Story Trailer
Screenshots