Street Fighter 6 open beta test for PS5, Xbox Series, and PC set for May 19 to 21
Featuring eight characters, Battle Hub, and cross-play.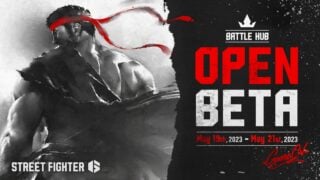 Capcom will host an open beta test for Street Fighter 6 from May 19 at 12:00 a.m. PT / 3:00 a.m. PT to May 22 at 00:00 a.m. PT / 3:00 a.m. PT across PlayStation 5, Xbox Series, and PC, the company announced.
The content of the open beta test is the same as the second closed beta test, meaning it will feature eight playable characters, and the following modes: Ranked Match, Casual Match, Battle Hub Match, Open Tournament, Extreme Battle, Game Center, and Training Mode.
Here is a full overview of the open beta test content:
Note: Playable characters and content will be the same as in Closed Beta Test 2 held in December 2022.

The following Battle Hub features will be playable.

Playable Content

Character Creation (only possible to create once)
Ranked Matches
Casual Matches
Battle Hub Matches
Open Tournaments
Training Mode
Hub Goods Shop
Extreme Battles (updates daily)
Game Center (updates daily)
Challenges (updates daily)
DJ Booth
Photo Spot

Playable Characters

Chun-Li
Guile
Jamie
Juri
Ken
Kimberly
Luke
Ryu

Playable Stages

Carrier Byron Taylor
Genbu Temple
Metro City Downtown
The Macho Ring
Tian Hong Yuan
Training Room

Avatar Creation

You can customize your avatar that appears in the Battle Hub when you play the game for the first time.

Please note that you cannot save or load avatar recipes, or remake your avatar during the Closed Beta.

Available Features

Cross-platform play
Control types (Modern / Classic)
Commentary

Play-by-Play Commentators: Vicious / Tasty Steve / Aru / Kosuke Hiraiwa
Color Commentators: James Chen / Demon Kakka

CFN (Fighters List / Replays / Rankings),
Online Match Fight Request function
Battle tutorials,
Battle settings
Photo mode

Function
Description
Cabinet
Battle Hub Match
The match will begin when both you and another player sit down at a battle cabinet. You can go into Training Mode while you wait for a match. You can also spectate while others are playing.
Extreme Battle
The rules and gimmicks of Extreme Battle change every day. You can go into Training Mode while you wait for a match or spectate while others are playing.
Game Center
Enjoy the classics once again in this area. This is single player content that changes daily. You can also spectate while others are playing.

Function
Description
Events
Tournaments
Tournament are held periodically. Go to the event counter to enter.
Challenges
Complete various challenges to receive rewards in the form of Drive Tickets.
Hub Goods Shop
Use Fighter Coins and Drive Tickets here to obtain gear for your avatar.
Fighter Coins (FC)
Provided as a first-time gift during the Closed Beta Test. Please obtain them through the News section of the Multi-menu.
Drive Ticket (DT)
Obtainable by completing challenges or entering events.

Function
Description
Menu
Device
Use your handheld device to change your avatar's gear and set what emotes to use.
Battle Settings
Turn on Fight Request for Ranked/Casual Match, set up your favorite character, and adjust commentary and other battle-related settings.
Multi Menu
Access Capcom Fighters Network, Rewards (Challenges), News, and Options from this menu.
Street Fighter 6 is due out for PlayStation 5, PlayStation 4, Xbox Series, and PC via Steam on June 2.
Watch a new trailer below.
Open Beta Announce Trailer
English
Japanese