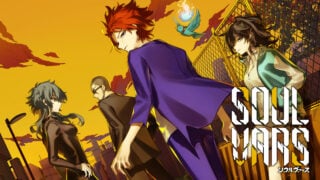 SOULVARS will launch for PlayStation 5, Xbox Series, PlayStation 4, Xbox One, Switch, and PC via Steam and Epic Games Store on June 27, publisher Shueisha Games and developer ginolabo announced. A demo will be available for PC via Steam from June 19 to 26 as part of Steam Next Fest.
Here is an overview of the game, via Shueisha Games:
About

Inspired by classic JRPGs with modern gameplay elements, this action-packed pixel art game provides players with a nostalgic yet fresh experience. Both fans of classic JRPGs and newcomers to the genre will surely enjoy the innovative gameplay mechanics, pixel art visuals, and memorable soundtrack.

In SOULVARS, the emergence of grotesque Dominators has brought about the consequences of technology for humanity, and as a result, Elite units comprising Soulbearers—the next generation of humans born with alternate Souls—are deployed around the clock to intercept and counter these attacks. Players take on the role of a Yakumo, a freelance Soulbearer, as he handles assignments from private military contractor "DDO" (Dominator Disposal Organization).

Key Features

Classic JRPG Nostalgia with a Modern Twist – Players immerse themselves in a game that blends the best of two worlds: stylish pixel art animations and dynamic, turn-based tactical planning.
Deckbuilding Combat System – Collect gear to expand your Soulbits—cards for your hand—and personalize your deck, then mix and match various Soulbits to uncover new attacks and unlock over 100 different Arts and Abilities. Hunt for rare and powerful gear by defeating unique Dominators on your journey to mastering the ultimate Arts!
Party-Based Combat – Each enemy is a puzzle to solve, a challenge to overcome! Customize your party to deal with different enemy types, identify their weaknesses and combine Soulbit actions to unleash over 200 powerful finishing moves!
Compelling Narrative – Through Yakumo and his fellow Soulbears, uncover the dangers of unchecked technology, the origins of the "DDO" (Dominator Disposal Organization), and the conspiracies behind the emergence of the Dominators.
Localized in 12 Languages – Both interface and subtitles are available in English, French, Italian, German, Spanish, Brazilian Portuguese, Russian, Simplified and Traditional Chinese, Japanese, Korean, and Hindi so players worldwide can enjoy this action-packed adventure.

SOULVARS began as a passion project for solo developer, ginolabo, and was initially designed as a classic JRPG. It became a huge success when it was released as a mobile game for Android and iOS in early 2022, soaring up the rankings to #1 for paid RPG apps and #2 for paid game apps on both Google Play and iTunes in Japan, and continues to garner wide acclaim among mobile gamers.

ginolabo secured the support of Shueisha Games, the gaming branch of Japan's largest manga publisher, to bring SOULVARS to PC and multiple gaming consoles. Shueisha Games recognized the game's success on mobile and is collaborating with the developer to ensure that the launch on other platforms is not a simple port, which is often the case with mobile-to-console adaptations. Gameplay has been optimized and enhanced for PC and consoles, featuring a horizontal UI and intuitive controller support that delivers a seamless and dynamic gameplay experience on bigger screens.

Through the collaboration with Shueisha Games, ginolabo has also partnered with the prominent mangaka, Shiro Usasaki, on the character illustrations in the key visuals and in-game. Usasaki is best known for their work on mangas such as Act-Age.
Watch a new trailer below.
Release Date Trailer