Sky: Children of the Light coming to PC
Currently available for PlayStation 4, Switch, iOS, and Android.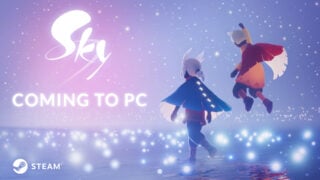 thatgamecompany will release free-to-play open-world adventure game Sky: Children of the Light for PC via Steam, the developer announced in celebration of the company's 17th anniversary. A release date was not announced.
Sky: Children of the Light first launched for iOS via App Store on July 18, 2019, followed by Android via Google Play on April 7, 2020, Switch on June 29, 2021, and PlayStation 4 on December 6, 2022.
"Sky represents our vision of how games can unite people from different backgrounds, cultures and continents," said thatgamecompany CEO Jenova Chen in a press release. "As Sky moves to PC, we can render its realms in stunning detail, but for us, Sky is not defined solely by its technology—it's an invitation to dream, explore and unite with one another in what we feel is the very essence of human connection in the digital age. The beauty of this world, the depth of its characters and the magic of its storytelling have created a community that extends far beyond the game itself. By introducing this to a new audience, we welcome players of all experience levels as they come together to experience something truly special."
Here is a brief overview of the game, via thatgamecompany:
In Sky: Children of the Light, players peacefully and collaboratively explore gorgeously mysterious environments. As they discover Sky's open worlds, the community forges spontaneous bonds and creates lasting memories with players around the world. The enchanting game has steadily grown to be a fan-favorite since its 2019 debut, recently reaching over 260 million downloads.
Watch a new trailer below.
PC Announce Trailer