PC Gaming Show 2023 to feature 16 new game announcements
A total of 55 games will be present.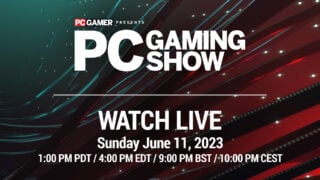 PC Gaming Show 2023 will feature a total of 55 games, including 16 new game announcements and special access to developer studios around the world, PC Gamer announced.
Confirmed appearances include:
"PC gaming overflows with interesting games," said PC Gamer global editor-in-chief Evan Lahti in a press release. "Our goal is always to lift up the broad spectrum of novel and creative work happening on PC, from major series like PUBG, XCOM, and ARK to genre-advancing stuff like Valheim, which debuted on the PC Gaming Show in 2020."
PC Gaming Show 2023 will air on June 11 at 1:00 p.m. PT / 4:00 p.m. ET. You will be able to watch it on YouTube, Twitch, and more.