OVERPASS 2 announced for PS5, Xbox Series, and PC
Due out on October 19.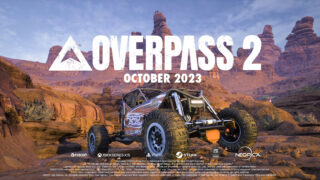 Publisher Nacon and developer Neopica have announced off-road racing game OVERPASS 2 for PlayStation 5, Xbox Series, and PC. It will launch on October 19.
"OVERPASS 2 is a unique game, and we are delighted to be bringing a new game out for fans of racing and off-roading," said Neopica managing director Peter Vermeulen in a press release. "We are working hard to recreate the terrain physics, vehicle behavior and the authentic sensations of this very technical sport."
Nacon Ceo Alain Falc added, "OVERPASS introduced this demanding sport to fans of off-roading and motorsports in general. The game was very challenging to play, and we really wanted to go even further with the concept. This is what we have done with OVERPASS 2, which includes more content and improved physics thanks to the Unreal 5 engine."
Here is an overview of the game, via Nacon:
Building on the studio's experience in racing games and feedback from players of the first game, OVERPASS 2 will offer a more in-depth and improved experience. In the game, drivers compete in races and try to set the best time on extreme tracks behind the wheel of powerful and officially licensed ATVs and UTVs. Developed in Unreal Engine 5, the game has a wide variety of content with 37 vehicles in three different categories, five environments, 31 circuits, and multiple race modes, including a much deeper career mode. Players must control the vehicles' power and skillfully navigate the track to overcome obstacles and win competitions.
Watch the announcement trailer below.
Announce Trailer