Nintendo Live 2023 Seattle set for September 1 to 4
Gameplay, performances, tournaments, photo ops, and more.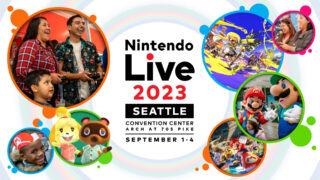 Nintendo Live 2023 Seattle will run from September 1 to 4 at the Seattle Convention Center, Nintendo announced. Registration for an opportunity to be randomly selected to receive free tickets is now available via the official website.
The event will feature hands-on Switch gameplay, live stage performances, gaming tournaments, photo opportunities, event merchandise, and more.
Get the details below.
How To Register

Heading to PAX West?

Nintendo Live 2023 will take place at the Seattle Convention Center alongside the PAX West gaming and pop-culture convention. PAX West badge holders who are interested in attending Nintendo Live 2023 can visit the official PAX West website for details as they become available. Please note that a PAX West badge alone does not guarantee entry.

Tournament Play

In addition to Nintendo Switch gameplay, photo ops with costume characters like Mario and Luigi, a stage with live performances, a pop-up Nintendo store with merchandise and additional family-focused activities, Nintendo Live 2023 will also host the Mario Kart 8 Deluxe Championship 2023 and Splatoon 3 Championship 2023 tournaments!

Online qualifiers* for these tournaments will begin May 27, where the top performers will secure their tickets to Nintendo Live 2023 and the opportunity to compete against the best on the big stage. Registration for the qualifiers opens today at 9:00 a.m. PT! For details about how to register, head to Nintendo.com.

Nintendo Live 2023 will take place every day from September 1 through September 4 from 10:00 a.m. to 6:00 p.m. PT in Arch at 705 Pike at the Seattle Convention Center. For more information about Nintendo Live 2023, visit the Nintendo Live website.