Grindstone now available for PS5, PS4, and Xbox Series
Puzzle game ships on new platforms with over 500 levels.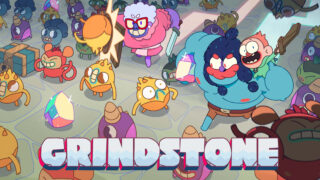 Capybara Games has released puzzle game Grindstone for PlayStation 5, PlayStation 4, and Xbox Series. It is currently available at a 20 percent-off launch discount price of $15.99 from its standard $19.99 price point.
Grindstone first launched for Apple Arcade on September 16, 2019, followed by Switch on December 15, 2020, and PC via Steam and Epic Games Store on May 20, 2021.
Here is an overview of the game, via Capybara Games:
Grindstone first launched on Apple Arcade in 2019, has since come to Switch and PC, and the team at Capy have been hard at work on creating free content updates for the game ever since. To date, Grindstone has amassed over 500 hand-crafted levels, and PlayStation and Xbox players get to enjoy them all on day one. Not only that, but Capy plans to continue supporting Grindstone with free content updates, on all platforms.

As a challenging but quick pick-up and play puzzler, Grindstone fits on one's home console library as a nice change of pace between bigger games that you can always come back to or for long stonegrinding sessions.

More key Grindstone features for unfamiliar console players:

Over 500 unique puzzle levels across 13 unique biomes filled with tons of enemy types, bosses and challenges—including a Boss Rush mode and New Game+.
Seasonal events, engaging trophies / achievements, and three Daily Challenge modes and leaderboards. On top of its treasure trove of levels, Grindstone always has a new challenge for players to apply their stonegrinding skills towards.
Various options for player customization—play as a hard working father and husband Jorj, or a tough-as-nails grandmother Jorja, unlock dozens and dozens of in-game cosmetics and items, and even make use of a High Contrast accessibility mode if needed.
Runs in 4K resolution at 60 frames per second on PlayStation 5 and Xbox Series X.
Watch a new trailer below.
PlayStation 5, PlayStation 4, and Xbox Series Launch Trailer