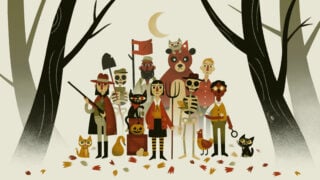 Publisher Finji and developer The Glory Society have announced adventure game Revenant Hill for PlayStation 5, PlayStation 4, and PC (Steam). A release date was not announced.
Here is an overview of the game, via Finji:
Developed by The Glory Society, a worker owned co-op whose members worked on titles such as acclaimed Night in the Woods, Stereophyta, and DOOM (2016) , Revenant Hill is a narrative adventure game with farming elements, where you strive to build an egalitarian community.

The year is 1919. After the barn he was living in burns down, Twigs the cat takes up residence in a wet log near an abandoned graveyard. When the owl from the next hill over starts demanding rent, Twigs must find a way to make ends meet, and things just get more complicated from there.

Times are hard, making ends meet is harder, and the world doesn't stop at the edge of the graveyard. Something big and dark is at work in the towns, the factories, in the forests and hills. At some point, someone is going to have to push back. And they can't do it alone.

Grow crops. Watch the seasons pass. Create a community. Make enemies and host ambitious parties for witches and demons while you get tangled up in a world in the midst of violent change, and so much more.
Watch the announcement trailer below.
Announce Trailer