Blue Protocol for PC launches June 14 in Japan; delayed to 2024 in the west
Pre-registration now available.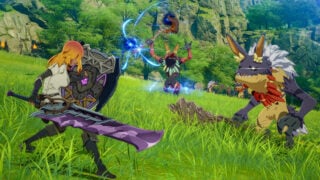 The PC version of free-to-play online action RPG Blue Protocol will launch on June 14 in Japan, publisher Bandai Namco Online announced. The service start time will be announced at a later date. Pre-registration is now available at the official website.
In the west, Blue Protocol was due out for PlayStation 5, Xbox Series, and PC via Steam in the second half of 2023 under the publishing of Amazon Games, but Bandai Namco Online today announced a delay to 2024 for the western release. A PC closed beta test will be held in 2023.
Here is an overview of the game, via Amazon Games:
About

Blue Protocol is a beautiful, cel-shaded multiplayer online action role-playing game that plays like an anime come to life. With an immersive and compelling story, options to fully customize your character, and five unique classes to choose from at launch, players can become the hero of their own fantasy adventure.

Key Features

Cinematic Main Campaign and Ample Side Content – Blue Protocol takes players on a heroic journey through Regnas, a world teetering on the brink of destruction after millennia of conflict and technology overuse. As players journey, they encounter characters who illuminate the history of Regnas and guide them as they face-down powerful foes and unlock their memories. During this epic adventure, players can also explore the beautiful world and get to know the inhabitants as they complete side quests, hone their skills in different challenges, enjoy fishing and more.
Five Classes at Launch – Each class has a unique set of skills that can be strengthened and modified with Skill Points, which players earn by raising their class level. As players increase a skill to its maximum level, they'll unlock a new class ability. Players can also switch classes at any time.

Blade Warden – A master of both sword and shield; making it a balanced class for front-line attacks.
Twin Striker – Excels at short-range damage dealing, wielding two devastating axes.
Keen Strider – Agile, with a bow for long-range attacks and area effects; excels at weakening enemies so front-line fighters can finish them off.
Spell Weaver – Manipulates the elements for powerful fire, ice, and lightning attacks.
Foe Breaker – Wielder of a massive hammer that deals powerful blows up close and can fire a cannon ball for short-range attacks.

Using Echoes – During combat players can summon the power of Echoes, the spiritual remnants of mystical creatures with powerful attacks, to aid them in battle.
Character Customization – Players create and play as their own avatar, with fully customizable features including mix-and-match outfits and accessories, hairstyles, and mounts.
Dynamic Multiplayer – Players can enjoy all of Blue Protocol's story alone or with others, with group content including Fields and Dungeons for up to six players, and epic Raids for larger groups. Gameplay can also trigger rare open world bosses that bring together players from across the map to take down for rare loot.
Watch the latest Blue Protocol official live stream "BluePro Transmission" below.
BluePro Transmission #7