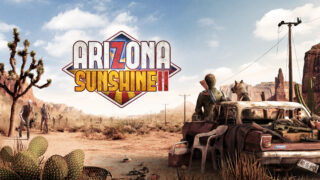 Vertigo Games has announced Arizona Sunshine II for PlayStation VR2 and SteamVR. It will launch in 2023.
Here is an overview of the game, via Vertigo Games:
About

Arizona Sunshine II is the sequel to the best-selling virtual reality zombie-shooter Arizona Sunshine. It is the next-gen sequel to the fan-favorite virtual reality apocalypse, and packs even more gore-geous zombie action!

Welcome back to sun-kissed, zombified Arizona, where you can take on the form of our dark-humored protagonist once more to set out on the next chapter of a virtual reality journey. In a post-apocalyptic world where every bullet counts, experience the thrill of realistic combat as you wield all-new and fan-favorite weapons—from shotguns to machetes and flamethrowers. An all-new melee combat system will push you to the very brink of your limits as you slay Freds (the zombies, in case you didn't know) like never before in full, next-gen mutilation glory!

Arizona Sunshine II is a direct sequel to the original that sets you on an all-new limb-strewn adventure in search of answers. And what's better than braving the end of the fucking world? Surviving it with your new best friend—Buddy. Not only is Buddy your four-legged companion through thick and thin, he's also the goodest boy and will help take down those pesky Freds for you. In this (surprisingly light-hearted) story of a profoundly lonely man desperate to find another living person in post-apocalyptic Arizona, our hero and Buddy embark on a quest for a new sense of purpose, seeking the joy that the wasteland around them cannot provide.

Key Features

Arizona Sunshine II takes full advantage of the latest virtual reality technology, forging a new frontier in blood-pumping, zombie-blasting action:

Form an unexpected friendship as you set out on a cinematic virtual reality journey of intense survival.
Experience the thrill of combat by physically wielding a diverse range of weapons, from shotguns to machetes—and even flamethrowers.
Explore gore-geous, next-gen virtual reality environments, all the way to the end of the fucking world.
Discover all the ways to slay a Fred through a brand-new, next-gen mutilation and gore system.
Watch the announcement trailer below.
Announce Trailer