Rift of the NecroDancer adds Switch version
Due out in 2023.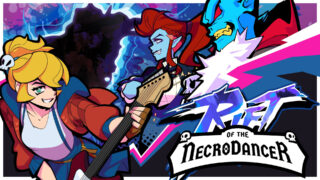 Rift of the NecroDancer will launch for Switch alongside its previously announced PC (Steam) release in 2023, publisher and developer Brace Yourself Games and developer Tic Toc Games announced.
Here is an overview of the game, via its Steam page:
About

The NecroDancer's back in a brand new rhythm game spinoff! Help Cadence navigate the modern world while repairing the rifts that have torn her life apart. Do rhythmic battle via rift mode, minigames, and boss battles! All to the beat of a brand new soundtrack from Danny Baranowsky and friends.

Key Features

Rift Mode – A rhythmic battle against streams of monsters pouring out of the Rift!
Mini Game Mode – Help Cadence overcome the challenges of the modern world via rhythmic mini games!
Boss Battles Mode – Defeat powerful bosses using a one-two punch, to the rhythm of the beat!
A brand new soundtrack from Danny Baranowsky and collaborators!
Mod support, online leaderboards, and more!
Watch a new trailer below.
Switch Announce Trailer