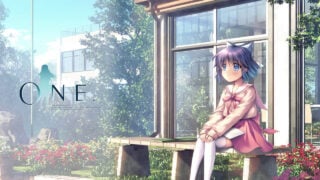 Romance visual novel remake ONE. will launch for Switch and PC via Steam on December 22 in Japan, publisher NEXTON and developre novamicus announced. The Switch version will be distributed by Ares. Pre-orders will open on May 26.
Here is the game's story synopsis:
The things that keep us tethered to this world.

Winter 1998. I was an ordinary student when another world emerged within me. Like heavy snowfall, it slowly engulfed my everyday life. It was then that I first realized—the unchanging things that exist within my day-to-day routine; the scenery that I've become so accustomed to seeing; the warmth of the person I love, but didn't even realize I loved.

They all exist as the things that keeps me tethered to this world.

That was the moment I first began to pursue the bond of that special someone. Time will pass, and eventually, the seasons will begin to shine in the sunlight. When that moment comes, what kind of world will I be standing in, and whose hand I will be holding?
Watch a new teaser trailer below.
Mio Kouduki Teaser Trailer