Niantic and Capcom announce Monster Hunter Now for iOS, Android
Go monster hunting in the real world.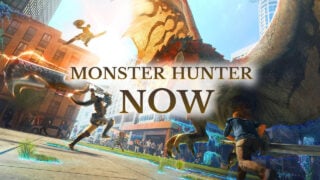 Niantic and Capcom have announced Monster Hunter Now, a new Monster Hunter title for iOS and Android that brings the series to the streets, parks, and neighborhoods of the real world. It will launch in September worldwide. It will be distributed by Niantic and licensed by Capcom. Sign-ups for upcoming closed beta tests are available now via the official website.
"Monster Hunter Now is a new and unprecedented Monster Hunter game that entices players to go out with their Palico and encounter incredible monsters in the real world," said Monster Hunter series producer Ryozo Tsujimoto in a press release. "Niantic's AR technology delivers a 'here and right now' hunting experience, something that can be played casually, while honoring the game play and hunting action that only Monster Hunter can offer. Let's get out into the real world and enjoy hunting!"
Niantic founder and CEO John Hanke added, "Monster Hunter Now will be the ultimate experience for anyone who has dreamed of facing off against epic monsters and battling them with friends. Filled with fantastical creatures, engrossing hunting and opportunities for teamwork, with the best possible graphics on mobile devices, Monster Hunter Now is the perfect franchise to bring into the real world."
Here is an overview of the game, via Niantic:
For anyone who's ever dreamed of hunting monsters in the real world, Monster Hunter Now brings that fantasy to life. Taking the role of a hunter, players will venture forth and team up with fellow players in order to take down the fiercest monsters in the world, adding a social element to the thrilling experience. Since Monster Hunter Now can be played on smartphones, you can easily invite your friends to join.

Monster Hunter is Capcom's most popular video game franchise with more than 90 million units sold globally, and is one of the most popular action role-playing game series of all time.

Monster Hunter Now is designed for everyone to enjoy at their own pace, whether you are a long-time Monster Hunter player, someone who hasn't played for a while, or even a newcomer to the series. You can also play when and where you want. For instance, in Monster Hunter Now, there's an item called the Paintball. By using a Paintball on a monster that you encounter, you can bring the monster back home and hunt it alone or with someone else. And even when you're walking around without playing the game, your companion can mark any monsters you pass by with the Paintball, so you can enjoy hunting them even after returning home.
Watch a teaser trailer below. View the first screenshots at the gallery.
Teaser Trailer
English
Japanese