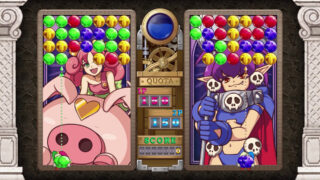 Publisher Forever Entertainment, and developers Highball Games and Storm Trident have released a new trailer, details, and screenshots for Magical Drop VI introducing the puzzle game's several gameplay modes.
Get the details below.
The Story of the Franchise

Magical Drop was first introduced in 1995 by Japanese developer Data East. Its fast-paced gameplay quickly gained a large following and led to several sequels and spinoffs, including Magical Drop II in 1996, which introduced new features such as a story mode and additional gameplay mechanics.

The franchise continued to expand releasing on multiple platforms such as Nintendo 64, PlayStation, and Xbox. Magical Drop III was one of the sequels that many players hold dear to their hearts. The series has also inspired fan communities and tournaments, remaining cherished by gamers to this day.

Single-Player Modes

Magical Drop VI has several modes with unique game mechanics to keep you engaged. Single-player modes include Story, Match, Survival, Puzzle, Caravan, and Path of Destiny. Let's go through each of them in detail.

Story Mode – Story Mode offers a variety of game activities and story-telling dialogues between characters inspired by the tarot cards, such as World, Justice, and Fool; personas well-known to the series' fans. Learn more about the Magical Land by playing on a game board with several paths composed of different fields triggering special events.
Match Mode – Match is a classic versus mode in which you can select your preferred character and proceed with a series of battles against the AI. In this mode, you can encounter all previously unlocked characters as well as mystery ones you haven't encountered yet!
Survival Mode – Another exciting mode to play is Survival, in which the drops flow endlessly onto the screen. Your job is to strike them as fast as you can to survive. The primary focus is to reach the highest Survival Mode rank possible. The three difficulty levels are available ranging from Easy to Hard, each of them is more challenging with an increased number of rows.
Puzzle Mode – In Puzzle Mode, you have to solve several puzzles translated into specific drop arrangements. The goal is to clear the game field with the fewest number of moves possible within the time limit. A timer counts down during gameplay, starting at 50 seconds. If the time reaches 0, a wall rapidly descends from the top of the screen until reaching the bottom. If you manage to clear the remaining drops, the wall goes back up and the next stage is triggered. However, if the wall descends and one or more drops reach the bottom, the game ends.
Caravan Mode – Time is equally precious in Caravan. In this mode, you must do your best to reach the highest score possible by clearing the game field and performing chains in a limited time. The Caravan can last for two or five minutes – the choice is yours!
Path of Destiny – In Path of Destiny, you can test your luck in a game against 3 AI-controlled opponents on a field resembling a classic board game. On each turn, you're presented with a spinnable roulette which decides on the number of moves you can perform. Each of the fields you can land on serves its own purpose—they might have a positive effect or quite the opposite! For example, a star triggers a minigame, and if you lose, you'll receive a penalty. Question mark triggers a random event, such as: gaining coins, starting a minigame, or even being forced backward! On the Bonus field, you will get an item or collect coins through the dedicated minigame. The Path of Destiny game ends when you or any of your opponents reach the Goal field.
In Magical Drop VI there is local and online multiplayer. Local multiplayer lets you play on one console with two controllers or via two Nintendo Switch family systems.

Online multiplayer, on the other hand, allows you to access public matches with players from all around the world. Select your preferred match settings among three multiplayer modes: Regular Match, Quota Crush, or Time Crush, and delve into battle!

Additional Content

Alongside the various modes, there are also extras for you to discover!

Magic Shop – In the Path of Destiny, you can win lottery tickets, redeem them in the Magic Shop or use gold coins to buy additional items which can help you throughout the game.
Gallery – Access Magical Drop VI's key illustrations and unlock the three remaining ones by buying lottery tickets in the Magic Shop! Once a full illustration is unlocked prices in Magical Shop will be lowered!
Music Room – Enjoy Magical Drop VI's soundtrack and sound effects at will!

Free Downloadable Content

The official release of the Magical Drop VI on April 25 will be followed by four pieces of free downloadable content adding new content.

Each downloadable content will introduce new characters, game modes, and features!

More information about downloadable content will be released soon.
Magical Drop VI is due out for Switch and PC via Steam and GOG on April 25, followed by PlayStation 4 and Xbox One at a later date.
Watch the trailer below. View the screenshots at the gallery.
Game Modes Trailer