Homestead Arcana launches April 21
New gameplay walkthrough video released.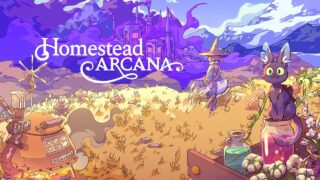 Homestead Arcana will launch for Xbox Series and PC via Steam and Microsoft Store on April 21, publisher Skybound Games and developer Serenity Forge announced. It will also be available via Xbox Game Pass.
Here is an overview of the game, via Skybound Games:
About

In Homestead Arcana, a menacing force known as the Miasma has taken over the land, with what remains of society banished to mountains above the clouds. A young witch farmer Billie embarks on a magical adventure with her cat familiar Huckleberry to rescue the land for future generations and heal the world. Players must pioneer, cultivate and craft spells to tap into nature to revitalize the corrupted realm and uncover the secrets of the Miasma.
Key Features

A New Take on a Classic Farming Sim – Homestead Arcana brings new magic to the current farming game genre with an imaginative world and diverse gameplay.
Create a Custom Homestead – Build a custom homestead from the ground up. Discover new plants, tend to an ever-growing garden, and craft new tools, spells and potions to take back and restore the land.
Discover the Secret of the Miasma – Survive in the dangerous Miasma's hostile environment where warped creatures roam free and bring back rare plants, spells and crafting components to use on the homestead journey.
Wield Nature's Magic to Heal the World – Use the strength of nature to craft spells and hone powers to prepare for the mysterious challenges ahead while working with a cat familiar, Huckleberry, to beat back the threatening Miasma.
Watch a new trailer below. View a new set of screenshots at the gallery.
Gameplay Walkthrough with Huckleberry