Flashback 2 will launch for PlayStation 5, Xbox Series, PlayStation 4, Xbox One, Switch, and PC via Steam in November, Microids announced.
Limited and Collector's editions will also be available. The limited edition will include a copy of the game, exclusive SteelBook, and the digital soundtrack. The Collector's Edition will include a copy of the game, a digital copy of the original Flashback, an eight-inch figurine of Conrad, three lithographs, an exclusive SteelBook, a unique badge, the digital soundtrack, and two sticker sheets.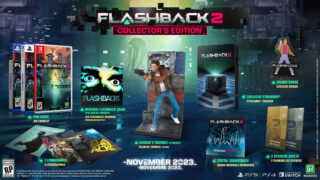 Here is an overview of the game, via Microids:
About

The return of a cult franchise after 30 years!

Conrad is back! Flashback, the legendary game from Paul Cuisset, who made the franchise famous all over the world, is back 30 years later with this new science fiction action–adventure game!

Flashback was ahead of its time, offering groundbreaking innovations and incredible character animations. A true pioneer in 1992, the game also attained legendary status thanks to its rich, gripping story.

This absolute classic is regularly ranked among the 100 best video games of all time!

To celebrate its 30th anniversary, the game has been revamped in 2.5D with a completely new version, Flashback 2… After his victory over the "Master Brain" in the original game, Conrad and his allies are once again confronted with the Morphs, who are threatening all civilizations everywhere. What's more, Conrad's friend Ian, who always has an answer to whatever question he might have, has just been kidnapped in front of his very eyes… Are the Morphs behind this? What are their motives? It's up to you to find out…

Help Conrad and his allies to complete this critical and dangerous quest across five levels jam-packed with action and shootouts and fight against the Morphs who are preparing a Machiavellian plan to take over the entire solar system…

Key Features

Explore five huge levels, each in a distinct graphical universe (Jungle, City, GBI Academy, Mutant Village, Morph Spaceship).
Use your trusty weapon, upgradable throughout the game, to destroy the Morphs!
Hide out in the shadows to escape from your enemies… or to eliminate them.
Use armor to protect yourself against the dangers of the environment.
Pilot a Mecha during some parts and become superpowerful!
Hop on your Moto Jet to travel to key locations.
Use an inventory system enriched with upgraded weapons and different pieces of equipment: Weapons, smartglasses…
A game in 2.5D for a more immersive experience.

Developed by Paul Cuisset, a master of the video game industry.
Watch a new gameplay trailer below.
Gameplay Trailer