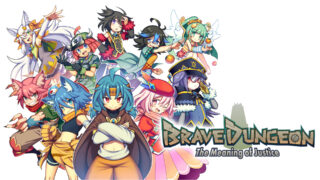 Brave Dungeon: The Meaning of Justice has left Early Access and launched for Switch via Nintendo eShop and PC via Steam for $29.99, developer Inside System announced.
The party-based dungeon RPG first launched in Early Access for PC via Steam on February 18, 2022.
Here is an overview of the game, via Inside System:
What is the The Legend of Dark Witch Series?

The first game was developed by Japanese indie studio Inside System in 2014 and released as a 3DS download by CIRCLE Entertainment, and the series has sold over 450,000 copies.

What is Brave Dungeon?

Brave Dungeon, an offshoot of the Dark Witch series, was featured in Nindies, the predecessor to Nintendo's Indie World, and was exhibited at the Nintendo booth during BitSummit. It has sold a total of 100,000 copies worldwide.

Overview

A sequel that inherits the basic system of the previous Brave Dungeon from the Dark Witch series. You can play in different stories and different systems with the scenarios of the three protagonists.

Al – Walk through the vast Forest of Miracles and look for the exit of the forest. We will proceed with the countless "IvyDoors" that block the way by using the limited number of "GrassKeys." You can further your exploration by picking up the pieces of Shega scattered throughout the forest and creating Seama Items.
Klinsy – The goal is to get the "Unsealed Books" hidden in the three library stacks. There is a "Sealing Trap" in the library that tests the wisdom of intruders.
Papelne – Papelne is brought to an empty plain. She begins to build her city from scratch. She is free to build the city as she wishes. Let her build a more attractive city and attract more visitors.
Watch the launch trailer below.
Launch Trailer
English
Japanese