Trinity Fusion adds PS5 and PS4 versions, launches in Early Access for PC on April 13
Roguelite action platformer due out in 2023.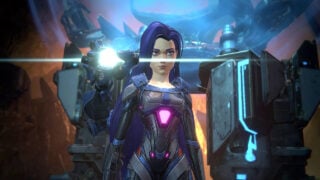 Roguelite action platformer Trinity Fusion will launch in Early Access for PC via Steam and Epic Games Store on April 13, developer Angry Mob Games announced. The studio also confirmed that the full release will be available for PlayStation 5 and PlayStation 4 alongside its previously announced Xbox Series, Xbox One, and PC versions.
"We have a ton of content in the works for Trinity Fusion," said Angry Mob Games' Bogdan Iliesiu in a press release. "Given the amazing feedback we received from players throughout Steam Next Fest and events like EGX, releasing in Early Access was an easy decision to make. With the Early Access release, we'll be able to get that same great feedback on our new biomes, enemies and bosses on an ongoing basis as we keep adding more for players to explore and fight through."
Here is an overview of the game, via Angry Mob Games:
About

Trinity Fusion casts players in the role of Maya, a cross-dimensional warrior psychically linked to her three parallel selves. Facing the imminent collapse of their worlds by the threat of mutants and machines seeking to raze all human life, you must coordinate with her alternate identities to dispatch the enemy and fuse their worlds to keep their timelines from collapsing.

Choose between three unique versions of Maya, complete with her specific weapon masteries and abilities, challenges and enemy encounters that overrun that world. Battle your way through hostile environments like underground caves, fortified prisons, and barren wastelands that will merge depending on each player's route, fundamentally changing the gameplay experience and outcome.

Explore and discover a wide range of equipment that scale up in power and modifiers as you defeat enemies. From high-powered energy rifles to massive hammers and blades, chain your abilities together smoothly to pull off satisfying combinations to overcome your foes. With death being a certainty as you fight through a broken world, you can rely on The Citadel, your home hub, where you can purchase various permanent upgrades to help you on your next run in your quest to save your worlds!

Features

A Journey Through the Multiverse – Fight through a combination of procedurally-generated levels and hand-crafted stages and arenas that will put your skills to the test. The 3D graphics and dark sci-fi aesthetic combine to create an engrossing world of hostile opponents and decayed futurescapes.
High-Intensity Combat – Utilize sophisticated weapon designs and attack systems that leverage Angry Mob Games' previous experience in the fighting-game genre. You'll slide, dash and dodge between enemy attacks and strike back with an arsenal of satisfying special weapons and abilities.
Three Heroines, Three Universes – Each of Maya's parallel selves has her own world with multiple biomes to explore. Travel through a universe of desolate wastes and caverns roamed by mutant creatures, escape the endless forges and laboratories of a world ruled by machines, and survive the dangerous sky cities of a post-human society.
Continuous Progression – Unlock permanent upgrades in The Citadel and discover new starting points for your run as you reclaim major locations in each universe. Finding yourself getting stuck in one area? Start your next run in a different reality!
Watch a new set of trailers below.
Early Access Release Date Trailer
PlayStation 5 and PlayStation 4 Announce Trailer
Gameplay Overview Trailer