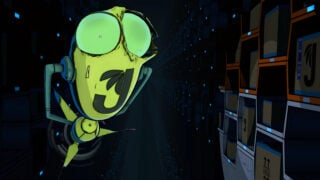 The Last Worker will launch for PlayStation 5 with PlayStation VR2 support, Xbox Series, Switch, PC and via Steam, Epic Games Store, GOG, and Quest 2 on March 30, publisher Wired Productions and developers Wolf & Wood and Oiffy announced.
Here is an overview of the game, via Wired Productions:
About

The Last Worker is an immersive narrative adventure centered around a lone worker's last stand in an increasingly automated world, The Last Worker is a unique blend of work simulation and stealth strategic gameplay.

The game is set in a lonely, oppressive but strangely beautiful environment, with characters designed by comics legend Mick McMahon.

Kurt works for the world's largest retailer and is forced to choose between capitalism or activism. Having dedicated his life to work, Kurt's loyalty is put to the test when a group of activists ask him to dismantle Jungle from the inside.

Aboard his corporate issued flying JunglePod and armed with his multi-purpose JungleGun, Kurt dispatches countless products from a fulfilment center the size of the sunken city of Manhattan.

Kurt (voiced by Olafur Darri Olafsson) has dedicated his life to Jungle, with only his co-bot, Skew (Jason Isaacs) to keep him company. But when S.P.E.A.R., a group of activists, asks Kurt to help dismantle Jungle from the inside, Kurt is forced to discover his employer's dark underbelly.

The Last Worker delivers an emotional, thought provoking and inspiring story with rich characters performed by an all-star cast starring, Jason Isaacs, Olafur Darri Olafsson, Clare-Hope Ashitey, David Hewlett, Zelda Williams and Tommie Earl Jenkins.

Key Features

A Story Worthy of the Big Screen – A collaboration between writer / director Jorg Tittel (The White King, Ricky Rouse Has a Gun) and virtual reality pioneers Wolf & Wood (A Chair in a Room: Greenwater, The Exorcist: Legion, Hotel R'n'R).
Miles of Gameplay – Hours of narrative, immersive gameplay in a giant hand-crafted environment.
A True Original – Unique gameplay mechanics seamlessly interwoven into a narrative unlike any other.
AAA Casting – Rich characters performed by an all-star cast in a story filled with heartfelt drama, biting satire and intense action. Starring Olafur Darri Olafsson, Jason Isaacs, Clare-Hope Ashitey, David Hewlett, Zelda Williams, and Tommie Earl Jenkins.
Player Choice – Multiple endings decided by an epic moral dilemma.
A Unique Look – Hand-painted 3D characters and environments based on concepts by comics legend Mick McMahon (Judge Dredd, 2000 AD)
Emotional Score – Composed by Oliver Kraus (Sia, Adele, Florence and the Machine), with vocals by classical music star Jakub Jozef Orlinski.
Play on Your TV or in Virtual Reality! – Playable in either flat or in virtual reality.
Watch a new trailer below.
Release Date Trailer