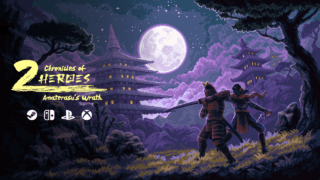 Side-scrolling action platformer Chronicles of 2 Heroes: Amaterasu's Wrath will launch for PlayStation 5, Xbox Series, PlayStation 4, Xbox One, Switch, and PC via Steam and Itch.io on May 26, publisher Catness Game Studios and Italian studio Infinity Experience announced.
Here is an overview of the game, via its Steam page:
About

Chronicles of 2 Heroes: Amaterasu's Wrath is an intense 16-bit action platformer featuring Metroidvania elements, Japanese mythos, and gorgeous pixel art. That's not all: you can switch between the protagonists in real-time! Ayame and Kensei have unique, surprising combat styles that you will need to master to save feudal Japan from Amaterasu's wrath.

Story

Amaterasu and her disciple, Empress Himiko, tyrannize feudal Japan with their mighty army of yokai. All hopes rest on Kensei the samurai and Ayame the kunoichi, two siblings who trained for years to defeat the goddess. Combining their abilities, they will get into the imperial capital of Osaka to steal the three sacred treasures, the empress' source of power.

Key Features

Switch between the protagonists in real-time. Kensei the samurai uses his katana for close combat, but he cannot jump. Ayame is way more agile and uses ranged attacks.
Overcome old-school platforming challenges. Retro platformers are our main reference, but we tried to bring the most satisfying, modern experience to the table.
Dive in Japanese mythos. Fight against ronin, yokai, and countless enemies inspired by Japanese mythology.
Unlock up to 20 powerful abilities. From smashing the ground and stunning your enemies to double jumping and reaching higher platforms.
Watch a new trailer below.
Release Date Trailer