Puzzle Quest 3 coming to PS5, Xbox Series, PS4, and Xbox One on April 18 [Update]
Free-to-play puzzle RPG currently available for PC, iOS, and Android.
Publisher 505 Games and developer Infinity Plus 2 will release free-to-play puzzle RPG Puzzle Quest 3 for PlayStation 5, Xbox Series, PlayStation 4, and Xbox One on April 18, the company announced.
Puzzle Quest 3 is currently available for PC via Steam, iOS via App Store, and Android via Google Play.
"We've received a tremendous amount of feedback and continued support from our Puzzle Quest 3 players on Steam Early Access and mobile platforms. We are excited to continue our expansion onto Xbox and PlayStation console platforms, extending the Puzzle Quest 3 experience even further," said Infinity Plus 2 CEO and creative lead Steve Fawkner in a press release. "Fan feedback has been invaluable to us, especially in our first year in the market. The team has worked hard on the roadmap, introducing new features, continuous updates and delivering on a wholly unique game experience while staying true to the classic puzzle combat roots that Puzzle Quest is known for. We're very proud of where the game is today and are excited to celebrate the launch in April by giving away a special high-value gift to all players across all platforms when they login."
505 Games head of free-to-play Clive Robert added, "We are thrilled to introduce the fan-favorite Puzzle Quest 3 to gaming consoles, underscoring our lasting commitment to providing multiplatform, free-to-play experiences to all gamers. Working with Steve Fawkner and Infinity Plus Two as a unified publishing and dev team over the past year has really solidified our goals to serve our growing community, reach new audiences, and put the player first."
Here is an overview of the game, via 505 Games:
Puzzle Quest 3 returns to its origins, recalling the deep RPG mechanics and signature heroic storylines that made the original a standout hit within the Match-3 category. The sequel features unique head-to-head battles that push the boundaries of the genre once again, with an intense 1-versus-1 battle system realized in a 3D game world. Since the initial launch, the game has introduced several major changes, including a new action points system that hearkens back to the legacy of the original Puzzle Quest. This includes a deeper focus on head to head battles where enemies manipulate the puzzle board and heroes must plan their matches more strategically. Puzzle Quest 3 has also introduced two new hero classes, a brand new adventure mode, a larger puzzle board, and multiple seasonal storylines. Additional improvements include an economy overhaul that reduced resource complexity and improved story chest reward rollout based on the community feedback.

Taking place in the land of Etheria 500 years after the original Puzzle Quest, players will embark on a heroic journey to discover the meaning behind the ancient Red Dragon's dying words. Fans will also get a taste of the new 3D game graphics as they become the ultimate hero with a familiar, yet updated puzzle board full of colorful gems and skulls, deep systems, recognizable characters, and an epic heroic storyline. The game includes a new immersive battle system where players unleash deadly spells and paralyzing attacks through the power of gem-crushing in an enhanced turn-based system making matches based on the number of action points available.
View a new set of screenshots at the gallery
Screenshots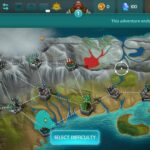 Update 04/14/23 at 8:05 p.m.: The console release of Puzzle Quest 3 has been delayed to "later in May."
Get the full message on the delay below.
Hello Adventurers!

We have made the decision to move the Puzzle Quest 3 console release date from our original April date to later in May.

Our entire team has been hard at work on getting console release ready to go, but we ultimately feel there are a few more items that require additional polish to ensure the smoothest possible launch of Puzzle Quest 3 on console.

This decision wasn't made lightly, and while we know many players are eager to start their adventure on these new platforms, we hope you can wait a little longer so that we can put the final touches and deliver a game that all our players will enjoy.

Thank you again for your patience and understanding!

—The Puzzle Quest 3 Team