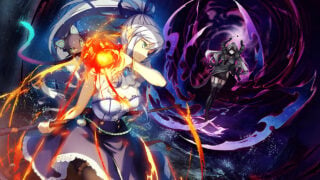 Entergram will release Nameless-developed "new authentic battle visual novel" DeepOne for PlayStation 4 and Switch on July 27 in Japan for 7,980 yen (8,778 yen with tax) at retail and 7,600 yen (8,360 yen with tax) via download, the company announced.
A 10,980 yen (12,078 yen with tax) limited edition will also be available, which includes a serial code for an SSR gacha ticket in DMM Games' DeepOne: Kyomu to Mugen no Fragment, B2-size tapestry, and a Konoka Itsukino binaural voice CD.
DeepOne first launched for PC on October 26, 2018 in Japan.
Here is the story synopsis, via VNDB:
Naoya and his twin sister Konoka had lost their parents at a young age and had a tough childhood. Nevertheless they still managed to find happiness in the little things in life and wished that these warm peaceful days would last forever. However, this faint hope was mercilessly crushed when a Grimoire suddenly appeared before them. It is a forbidden magic book that has existed since the beginning of time, but which should not be in the human realm. They thought that they were an ordinary family, but they were actually the heirs to the "Old One", which has the power to destabilize the world.
Visit the official website here.