Metal Dogs full release now available for PC
Casual shoot 'em up action game leaves Early Access after almost two years.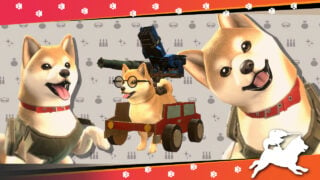 Metal Dogs has left Early Access and is now available as a full release for PC via Steam, developer 24Frame announced.
To commemorate the release, Metal Dogs is available at a 30 percent-off discount price of $13.99 for a limited time—which is an even greater discount than the 16 percent users saved by purchasing the Early Access version when it first launched on August 24, 2021.
In Japan and Asia, Metal Dogs also launched both physically and digitally for PlayStation 4 and Switch on April 8, 2022. The Switch version launched via Nintendo eShop on March 8, 2023 worldwide.
Here is an overview of the game, via 24Frame:
About

Metal Dogs, the first spin-off project of the Metal Max series, is a casual shoot 'em up action game in which cute dogs including Pochi, the fighting dog familiar to fans of the series, run around and shoot at each other. The game is a casual top-down, shoot 'em up action game!

Set in Japan after the Devastating Apocalypse has wiped out most of the human race. The base of operations is in the ruins of a village at the foot of Mt. Fuji.

After being revived by the enigmatic old scientist, Dr. Minch, the protagonist Pochi embarks on a perilous quest to locate his master who abandoned him. His journey leads him into a treacherous dungeon, teeming with ferocious monsters.

Flashy Battles in the Vein of Metal Max

Embark on an adventure into dungeons that change every time you enter, and arm yourself with a diverse range of weapons with varying abilities, from machine guns and cannons to missiles!

Experience the thrill of taking down hordes of monsters and engaging in epic battles against formidable boss creatures, all with easy-to-use controls.

Encounter Many of Your Favorite Monsters from the Series

The Metal Max series features a number of mechanical monsters based on animals, plants, and insects!

Boss monsters called WANTED will confront players as powerful enemies.

Hardcore Mode for Those Who Want More Excitement

We added a Hardcore Mode based on player feedback during Early Access.

In Hardcore Mode, the player must survive attacks that can cause an immediate game over with a single hit, and overcome numerous restrictions such as a limited number of bullets and losing equipment when the player dies.

Please give it a try if Normal mode feels like it's not difficult enough!

Three Bosses and Challenging Quests Appear After Completing the Game

Challenging quests have been added to both Normal and Hardcore modes during Early Access to increase playability for users that have completed the game.

Enjoy battles with Daedalus, Warshipsaurus, and Dr. Rafflesia, the most popular enemies in the Metal Max series!

The Main Characters are Three Dogs

A one-of-a-kind game in which cute dogs run around and shoot their way through a completely devastated world.

Customers of all ages will enjoy this casual action game where the player controls tiny dogs that are fighting valiantly with weapons strapped to their small bodies.

The popular voice actor Hiro Shimono lends his voice to the dogs, delivering stunning performances for each of the three characters.