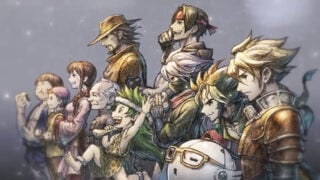 Publisher Square Enix and developer historia will release the LIVE A LIVE remake digitally for PlayStation 5, PlayStation 4, and PC via Steam on April 27, the companies announced.
A demo is available now via PlayStation Store (PS5, PS4) and will launch later today via Steam. It allows you to play the first parts of three of the seven stories in the game: "The Wild West," "Twilight of Edo Japan," and the "Distant Future." Save data from the demo can be carried over to the full game.
LIVE A LIVE first launched for Switch on July 22, 2022.
Here is a brief overview of the game, via Square Enix:
LIVE A LIVE will offer players the freedom to explore eight different stories with eight different characters, each set within different time periods spanning from a pre-historic era to the Wild West, and more. Each unique chapter will offer players a range of different gameplay mechanics to master, such as stealth, suspense and trap placement, all of which center around LIVE A LIVE's turn based battle system. Players will also be able to tailor their gameplay adventure to their preference, the episodic story format gives players the freedom to complete each chapter from start to finish in any order they choose, or even play through a little of each chapter in parallel at the same time.

Produced by Takashi Tokita (Chrono Trigger and Final Fantasy IV), the original game director of the Super Nintendo version, LIVE A LIVE has been revitalized using HD-2D technology that blends the nostalgia of pixel art with modern graphics, offering a classic RPG gameplay experience with updated visuals on PlayStation 4, PlayStation 5, and PC. Players can also look forward to a rearranged version of the game's soundtrack which has been recreated under the supervision of LIVE A LIVE's original composer, Yoko Shimomura (Final Fantasy XV, the Kingdom Hearts series).
Watch the announcement trailer below. View a set of screenshots at the gallery.
Announce Trailer
English
Japanese
Screenshots